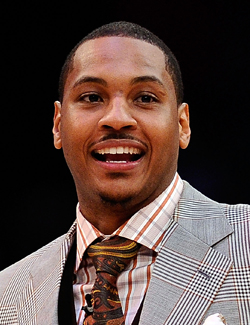 Carmelo Anthony and agent meets with Nets owner Mikhail Prokhorov and Jay-Z in Los Angeles to discuss prospective trade for Nets to acquire All-Star.
Posted by Matt Moore
Ken Berger of CBSSports.com
has confirmed an AP report that Carmelo Anthony and Nets majority and minority owners Mikhail Prokhorov and Jay-Z met earlier Saturday night to discuss the Nets' interest in acquiring the All-Star small forward. The meeting occurred just hours after Prokhorov released a statement through his spokesperson stating no meeting had taken place or was planned, and that they would have no further comment on the matter. The meeting also coincided with a renewed interest from the
Knicks
as owner James Dolan has become more involved in the talks, Berger reports.
ESPN reports
that the Nets meeting lasted 40 minutes and included Anthony's agent Leon Rose and advisor Bay Frazier, as well as Nets CEO Brett Yormark and GM Billy King. Melo was reportedly "noncomittal" following the meeting, and
Yahoo! Sports reports
that the Nets "didn't come away very confident."
So the Nets got their meeting, and failed to hit the home run. But they're not out of it yet. Their biggest problem? James Dolan, who has become involved in the negotiations on the Knicks' side, and is offering up more and more assets to get the second superstar, threatening to damage the leverage Donnie Walsh has very carefully maintained throughout these negotiations. The Nets' biggest advantage? Their remaining ability to threaten Melo by not trading him, then taking his extension offer off the table, leaving him high and dry for the extra money entering a new CBA.
The Nets have now offered three picks,
Devin Harris
and
Derrick Favors
for Melo in a three-way, walked away and said they were through, come back, offered the same deal plus an extra pick, said they weren't meeting with Melo, reaffirmed they weren't meeting with Melo, then met with Melo, and now they still don't have a deal.
You've got to give it to the Russian, though.
He's a persistent dude.