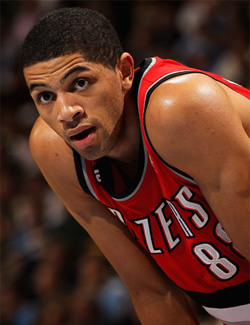 Posted by Royce Young
I get the feeling with FIBA officially paving the way for NBA players under contract that more and more guys will decide to ink overseas contract just in case things don't go so well and all with the bargaining and such.
So add another name to the list:
Nicolas Batum
.
According to BasketSession.com
, Batum has signed with SLUC Nancy in France. Batum of course if originally from France and currently is under contract with the Blazers. Here's a rough translation,
via Blazers Egde
:
According to a source familiar with the matter, Nicolas Batum signed with SLUC Nancy. The winger Portland Trail Blazers and the team will begin the season in France Pro A and the Euroleague with Nancy in the case quite likely that the lockout blocks the start of the NBA season. We knew very advanced contacts between the two parties, but nothing was sure yet.
Batum is still on a rookie deal making "just" $2.16 million next season. Because of that Batum isn't risking as much as a free agent or a player with less guaranteed money. And with him being just 22 years old, he's still got a really bright future ahead in the NBA. Which is a pretty good reason why he wouldn't want to just sit on his hands and wait for a resolution. Young guys like him want to play.
He'll get a little of that as he's playing for France in Eurobasket in September, but now it sounds like he's at least got plans ahead of that.
Batum is definitely a major part of Portland's future roster so I'm sure Paul Allen and Nate McMillan are cringing just a bit at this news. At the same time though, you want your young guys to develop and playing against top competition in Europe will afford him that opportunity. Injury is always the big risk factor and I'm sure that'll be on every Blazer fans' mind while Batum is in France, but it's the line you walk.