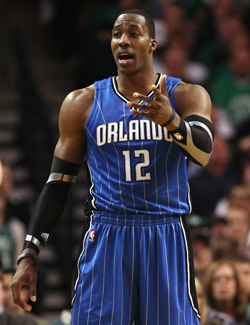 Dwight Howard has started making a list of cities to bolt to even as he says he wants to win a championship in Orlando. But doesn't some of that burden fall on him?
Posted by Matt Moore
The worst part of all this is that Dwight Howard won't come out and say it. He's pulling the whole routine. From saying how much he loves the fans, to saying he "just" wants to win a championship, to leaking to the press through people close to him that he wants to go to a big market, he's following the plan, the blueprint, the design.
The
LeBron James
"Set Up Your Escape" plan. Copyright 2010.
From Ken Berger, CBSSports.com:
Howard evidently is willing to be patient. A free agent in 2012 along with the Hornets' Chris Paul, Howard has yet to form a strong opinion one way or the other, according to a person with knowledge of his thinking. Stay or go? To paraphrase LeBron, what should he do? If he does leave, Howard has his eyes on two teams -- the Lakers and Knicks -- as the big-market destinations where he'll chase down his championships and marketing opportunities if things don't work out in the Sunshine State. The Nets, who are supposed to be in Brooklyn by then, also are in the mix, the person said.
via
Magic
's troubling questions surround futures of Howard, Arenas - NBA - CBSSports.com Basketball.
You've seen this before, right? With
Shaquille O'Neal
, obviously, in the same city, leaving for one of those cities on Howard's list, then winning championships while yet another small market team is made out to be the farm system. (But really, revenue sharing and parity isn't a problem in this league!) You've seen this before with LeBron James, never saying he was
going
to leave, saying he
loved
the fans, and that he just wants to win a championship.
And that's the big one, right there. Because somewhere along the way, that's become our excuse. It predates even
Kevin Garnett
, but he's the most recent example. Any sort of franchise-crippling behavior and hostage-holding endeavors are excused in the pursuit of "winning a championship." The problem? This talk of winning a title always seems to come without any responsibility for the player. It's always about the GM, the coach, the organization doing more for the free-agent-to-be.
Dwight Howard's not saying, "I want to win a championship, so I'm going to stop leaving 4.8 points per game on the floor with my free-throw shooting." He's not saying, "I want to win a championship, so I'm going to work on my footwork beyond a three-day session with Hakeem Olajuwon and become a truly dominant offensive center." He's not saying, "I want a championship, so I'm going to lead my guys to one." Instead he's laughing, making commercials, ratcheting up technical fouls as he spirals towards a suspension, and setting up the blame to be elsewhere.
We're supposed to believe that if the Magic fail to win a title, it's due to a lack of endeavor or ingenuity on Otis Smith's part. But what has Smith done in Orlando? He's provided Howard with a crack stretch four with perimeter range and a versatile combo-forward who could run the pick and roll. When those options overstayed their usefulness, he jettisoned them, with no regard for their contribution to the franchise, because he was doing everything in his power to secure a championship-caliber team for Howard. He brought in
Vince Carter
, former All-Star. He helped develop
Jameer Nelson
as a sub-All-Star caliber point guard. He brought in
Brandon Bass
for a true power forward. He found a steal in young
Ryan Anderson
. He flipped Vince Carter and
Rashard Lewis
for a range of talent, including the player Howard had found the most success in the pick and roll with,
Hedo Turkoglu
, and a top perimeter player in
Jason Richardson
.
Gilbert Arenas
was icing on the cake, for crying out loud.
And we're supposed to believe that Orlando hasn't done enough? Sure Howard had a dominant first half. But then he vanished against the
Celtics
. The Magic keep trying to find different perimeter concoctions to overtake the Celtics, but in reality? The best way to beat the Celtics is to bash their head in with the most powerful center in the game. The same center who still, even in an MVP-worthy season, has trouble establishing position, and often follows the same footwork time and time again, leading to blocks, turnovers, and frustration. Howard never adapts to how the Celtics defend him, instead he wonders why the rest of the Magic can't hit a shot.
This isn't to say Howard isn't an elite player. He is, by any possible measure. He's having an MVP-type season. But he's already starting to formulate an escape plan to get him out of Orlando without sacrificing his public image. He's making the failures out to be everyone's but his own. He'll wind up in a big market that can lure top free agents or trade prospects and he'll simply overwhelm others with talent, as we've seen the Lakers and Celtics do over the past four seasons. And then he'll be lauded as the greatest, even if he doesn't improve a bit.
If Howard wants to play in a bigger market to expand his commercial potential, fine. He's a businessman, he's got to take care of his own. If he wants to play somewhere he'll amazingly get more attention than he already does, have bigger parties, or more celebrity opportunities, that's his right. As a free agent, you get to decide where you work. But don't pretend that everything is done in the pursuit of a championship. A championship is more than just an overwhelming amount of talent. It's about sacrifice, devotion, and a commitment to being the absolute best part of your team you can be.
If Dwight Howard really wants to win a championship, if he truly wants to be great, he needs to take responsibility for that endeavor, and not hold a franchise hostage, forced into panic over the prospect of losing him.
But then, that's no longer the model.