Posted by Ben Golliver.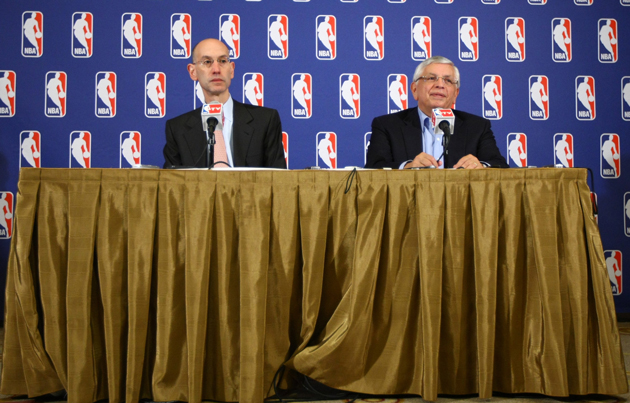 On Friday, CBSSports.com's Ken Berger reported the dreadful news that we've all been fearing: the NBA and the National Basketball Players Association have failed to reach a new Collective Bargaining Agreement in time, meaning training camp and portions of the preseason schedule have been indefinitely postponed and/or canceled.
Preseason is always a fun time of the NBA calendar, guaranteed to be chockfull of "Player X added 15 pounds of muscle" and "Lottery team Y finally seems poised for a playoff push" stories. Of course, no preseason means no preseason stories. No hype, no hope. More Adam Silver, more David Stern. What a bummer.
So here's a rundown of seven stories you would have been reading had the NBA and the NBPA gotten their collective act together in time to save the schedule. These stories are lost everywhere, except for here.
1. Security Detains Eddy Curry Outside AmericanAirlines Arena
MIAMI -- It appears that Eddy Curry will not be joining the Miami Heat after all.
Following nearly a year of reports indicating that Curry had lost an NBA-record 468 pounds since he was released by the Minnesota Timberwolves at least year's trade deadline, the free agent center was forcibly removed from AmericanAirlines Arena property by a cadre of four security guards on Tuesday. The use of force was deemed necessary after direct requests to leave from Heat president Pat Riley and Heat coach Erik Spoelstra were not heeded.
"We didn't want to do it but we really had no choice," said Joseph Watkins, the guard assigned to carry Curry's left leg. "I was just following orders."
"What can I say? I got my hopes up," Curry explained. "I kept reading over and over that Miami was interested in me and I thought I could help LeBron [James] win a ring finally. I thought they would change their mind if I showed I was determined. I guess they wanted to go a different direction."
After the trimmed-down center had been dragged to an auxiliary parking lot, Riley briefly asked a reporter who Curry was before returning to the Heat's training session, which was closed to the media. When practice broke, Spoelstra indicated that the defending Eastern Conference champions were comfortable with their center rotation of Joel Anthony, Zydrunas Ilgauskas, Dexter Pittman, Juwan Howard, Chris Webber, and Bill Wennington, and are not in the market for another big man.
"We like our guys," Spoelstra said.
Curry told the Associated Press that he isn't sure when or where his next basketball opportunity will come but did indicate that he would like to have the plastic handcuffs removed from his wrists, or at least loosened, as soon as possible.
2. Bloody Prank Signals Rift Between Thunder Stars?
OKLAHOMA CITY, OK -- A severed head was discovered inside a backpack belonging to Kevin Durant on Friday.
The Thunder's All-Star forward pulled the ghoulish, plastic mask -- which bore an uncanny resemblance to coach Scottie Brooks and had been doused in ketchup to simulate the appearance of blood -- out of his signature carry-all following an evening workout. With a look of bewilderment, Durant tossed the mask into a nearby trash can before returning to the team's practice court to work on his free throw shooting.
"I'm just out here trying to get better," Durant said, shrugging off his unsettling discovery.
It's not yet known who placed the mask in Durant's backpack, although suspicion was immediately cast upon Russell Westbrook. The mercurial guard led the NBA in postseason technical fouls in 201, rarely passes the ball because he's so self-involved and sometimes has a "funny look" -- according to multiple teammates -- in his eyes. Center Kendrick Perkins apparently implicated Westbrook in the incident when he stormed out of the practice facility, repeatedly yelling the words, "I told y'all! I told y'all!"
The incident raises anew the question of whether Oklahoma City's two All-Stars will be capable of coexisting as their careers and games develop.
"Halloween is Monday," Westbrook said, cryptically, before rushing a free-throw extended jump shot and completely hurdling teammate Eric Maynor to claim the offensive rebound.
Thunder president Sam Presti did not offer an alibi for himself, but what else is new?
3. Rivers: More Needed From Rondo For Green To Succeed
BOSTON -- Nine months after the most controversial trade in recent Boston Celtics history, coach Doc Rivers continued to defend forward Jeff Green from media criticism.
A lightly sprained ankle for starting center Jermaine O'Neal caused local sports talk radio hosts and callers to go into hysterics on Monday, rehashing the ill-fated swap that brought Green to Boston in exchange for starting center Kendrick Perkins, who was sent to Oklahoma City.
"Jeff is still getting acclimated, and [president] Danny [Ainge] and I still believe he will be a key piece for us," Rivers said.
During the portion of practice open to the media, Green dribbled the ball off of his foot, missed three three-pointers, was late on two defensive assignments and appeared to frustrate aging forward Kevin Garnett, who was seen shaking his head sadly rather than barking instructions like usual.
When pressed, Rivers said that the eventual solution to what he called Green's "learning curve issues" will have to come from All-Star starting point guard Rajon Rondo.
"Rondo gets him wide open jumpers, wide open lay-ups, makes 10 plays a game defensively, and he leads by example," Rivers said. "But I have eyes, you have eyes. You can see it. It's clearly not enough. We're looking for Rondo to keep leading and to do even more, to carry all of us. [But] especially Jeff."
Pausing for a moment, Rivers, to the surprise of the media present, chose to vividly underscore his previous point.

"I don't care if Rondo dislocates both of his elbows at the same time so his arms are hanging off of his body backwards, he will need to carry Jeff."
Asked to respond to Rivers' comments, Rondo stared ahead blankly, as always.
4. Greg Oden No-Shows At Day One Of Blazers Camp
PORTLAND, Ore. -- Once again, the gym is full of NBA players and hopefuls. Once again, the biggest one among them is missing.
The Portland Trail Blazers opened training camp to the media for the first time on Monday, only to reveal that center Greg Oden, the No. 1 overall pick in the 2007 NBA Draft, was nowhere to be found. Oden, who signed a 5-year, $70 million extension during the early-October free agency period, has played just 82 games in his 4-year NBA career and has rarely been available to the media since suffering his most recent in Nov. 2010.
Through a spokesperson, Blazers president Larry Miller refused to comment about Oden's status, leaving new GM Brandon Roy -- who was promoted to the position after Miller used the amnesty clause to rid the Blazers of the four years remaining on his contract -- to face the media scrutiny alone. Roy said the team would not rush its center back to the court, noting that Oden's recovery from microfracture knee surgery was still "on schedule," although he did not divulge further specifics.
Blazers coach Nate McMillan looked irritated by the questions. "I've got 18 guys here fighting hard to grab one of our roster spots, let's talk about them," McMillan said.
Mike Conley, Sr., Oden's agent, offered a possible explanation by email. "Rehabilitation has kept Greg off the court for almost a year. During that time, in addition to completing a multi-disciplinary strength and flexibility training program, Greg has worked hard on improving and honing his invisibility. I'm pleased to hear that his work has evidently paid off. How many 7-footers do you know that can literally disappear in the blink of an eye? We feel this will make him even more valuable in the years to come."
Oden's whereabouts are not currently known at this time. His status for Portland's season opener is also up in the air.
"We'll just have to see," said McMillan.
Or not.
5. Kings Guard Completes First Pass
SACRAMENTO -- Kings coach Paul Westphal couldn't help but beam. After all, he had just witnessed an important milestone for his young team.
"I've been preaching unselfishness and ball movement all week and it was great to finally see these guys take that message to heart and execute it," Westphal said, his shirt soaked with sweat.
After back-to-back-back two-a-day practices and a morning session that yielded no progress, Jimmer Fredette became the team's first guard to complete a pass during scrimmage play on Thursday night. Prior to the pass, Tyreke Evans, Marcus Thornton, John Salmons and free agent signing Jamal Crawford had each managed to take a shot, draw a foul or commit a turnover on all of their possessions. Meanwhile, rookie point guard Isaiah Thomas, arguably the team's best playmaker on paper, left the practice facility on Tuesday after being frozen out for 263 straight trips up the court and hasn't been heard from since. A team official assured CBSSports.com that the organization is "not alarmed."
Fredette's pass occurred when he inadvertently took the ball out of bounds following a made basket by Evans. Looking confused, and with no other option other than committing a five-second violation, Fredette reluctantly inbounded the ball to Thornton, who promptly dribbled coast-to-coast, only to have his running lay-up attempt swatted out of bounds by center DeMarcus Cousins. Westphal shouted encouragement -- "That's what I'm talking about!" -- and blew his whistle, briefly stopping practice to single out Fredette for praise.
"It was nothing, really," Fredette said, afterwards, looking a touch sheepish.
6. Adelman Closes Practices To Timberwolves Executives
MINNEAPOLIS, MN -- Two hours after a minor shouting match erupted between Timberwolves coach Rick Adelman and president David Kahn on Monday, the two men pledged publicly that they had put the matter behind them.
"Direct communication is integral to creating a winning atmosphere," Kahn told a group of reporters on Monday afternoon. "Rick and I exchanged ideas, as we often do, and we were able to come to a resolution that is amenable to both parties. We thank you for your interest but this matter has been resolved. We look forward to a successful year."
The dispute, two league sources said, began when Adelman chided Kahn for openly cheering for rookie point guard Ricky Rubio, while wearing a Rubio jersey, in front of the entire team. That exchange escalated when Adelman decided to play veteran Luke Ridnour with the starting unit, instead of Rubio, prompting Kahn to yell loudly, "Come on!"
According to the sources, Adelman then threatened to quit on the spot, issuing a "you go or I go" ultimatum just weeks after formally accepting the position and signing a 4-year contract.
"This is my team and I make the coaching decisions," Adelman told reporters bluntly after practice. "That's it. Any other questions?"
The resolution, according to sources, will keep Kahn and other team executives off the practice court for the rest of training camp, although indications are that Kahn and Adelman have agreed to revisit the matter once the regular season begins.
Rubio, who competed for the Spanish national team at this summer's EuroBasket tournament, finished Monday's scrimmage with 0 points and two assists in 37 minutes.
7. Thibodeau Thanks Fans, Admits They Could Be Right
CHICAGO -- The Bulls held an intra-squad scrimmage at the United Center on Friday, allowing fans and season ticket holders the rare opportunity to watch the team go through its paces free of charge.
NBA MVP Derrick Rose drew the loudest cheers and the longest line of pre-game admirers, Luol Deng pledged $10,000 to charity at halftime, and new free agent signing J.R. Smith, who bought his own way out of a one-year contract he signed to play in China, autographed a diehard fan's neck with a tattoo gun. But the clear highlight of the festivities came when the NBA's reigning Coach of the Year, Tom Thibodeau, took a microphone at center court just before tipoff to thank Bulls fans for their loyal support during the team's run to the 2011 Eastern Conference Finals.
"You guys are the best fans in the league," Thibodeau said, to wild applause. "We hear you loud and clear every night. You give us a true home court advantage and we, all of us, from me to the players, appreciate it."
Seemingly overwhelmed by the extended standing ovation he received, Thibodeau shuffled quickly to the sideline before catching himself and returning to the microphone to offer a final thought.
"Just to let you know," the defensive mastermind continued, "We also hear you loud and clear about Carlos Boozer."
The simple mention of the power forward's name elicited instinctive and ravenous booing from the fans, who were in no mood to forgive Boozer's disappointing showing in the 2011 NBA Playoffs and the team's controversial decision not to use the Amnesty Clause to shed his massive contract during free agency.
"Yes, we've received thousands of letters, text messages, phone calls and emails. For the sanity of Illinois' hard-working postal workers, please stop sending them. We understand that you think he is soft, that he isn't good enough to be a No. 2 guy, and that he isn't clutch enough to put us over the top against Miami."
Here, the second-year head coach drew a breath and exhaled, the long, lonely nights in his office preparing schemes and reading the fan correspondence clearly weighing upon his heart.
"Look, you're probably right about all of it. But how the hell are we going to trade him?"
Boozer, who mysteriously broke his hand for the second consecutive offseason, was not medically cleared to play in the scrimmage and was not available to provide a statement. Nobody noticed or cared.