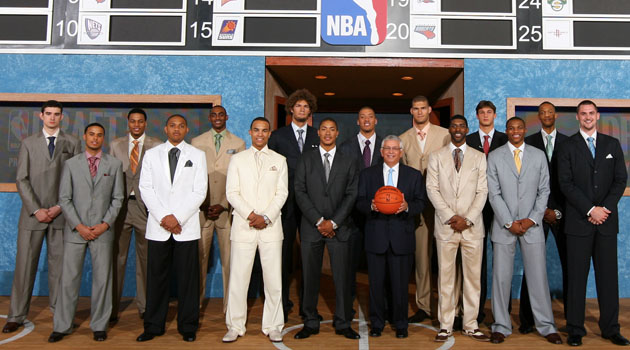 By EOB Staff
The deadline for rookies from the 2008 draft class to receive extensions is Wednesday at 11:59 p.m.. We'll help keep track of those getting the big payday, and those left out in the cold for restricted free agency, below.
Wednesday 10:40 p.m.

Yahoo Sports reports that New Orleans Hornets guard Eric Gordon will not receive a contract extension, instead heading on the path towards restricted free agency next summer. The Hornets reportedly made a 4-year offer to Gordon but the sides could not reach an agreement.
Wednesday 7:03 p.m.

Wednesday 7:03 p.m.

Wednesday 6:34 p.m.

Wednesday 3:50 p.m.

Wednesday 12:50 p.m.

Ken Berger of CBSSports.com reports that the Nuggets have signed Danilo Gallinari to a four-year, $42 million extension. That's great value for a player of Gallo's upside and ability. He's expanded his ball-handling abilities and is operating in a hybrid point-forward role at times in the pick and roll, attacking the rim and working the offense. Great value for a player that looks to be part of the Nuggets' contending core going forward.
Fox26 TV in Houston reports that the Rockets will not be extending Hasheem Thabeet, Terrence Williams or Jonny Flynn, and Jordan Hill is still up in the air. No shockers here as none of those players have proven themselves to be legit NBA rotation players on a consistent basis.
Wednesday 9:30 a.m.:
The saga of Eric Gordon and the NBA-owned Hornets continues. Yahoo Sports reports that the league has finally given the Hornets permission to offer Gordon a four-year extension. This is clearly short of the five-year "designated player" extension. The Hornets want to hedge their bets a bet with whoever they land in the draft this season as well as Gordon's injury issues. Still, the league not granting permission until the day-of is really an absurd approach and again hinders the Hornets' ability to maximize efforts to lock up their solitary star player.
Fox Sports Arizona reports that the Suns say they reached out to Robin Lopez' representatives, but that Lopez' agent preferred to see what Lopez could pull in in restricted free agency rather than take what is likely to be a lesser extension offer. No shocker. Lopez shows flashes but has yet to put together any sort of consistent ability and the safer approach is to wait and see if Lopez can boost his value in the next five months headed into free agency.
A report surfaced Tuesday night that Kevin Love and the Wolves had agreed to a four-year, $60 million extension, but Love later tweeted that conversations were ongoing and reports indicate that the deal is not done. It's clear the Wolves will get this done today, the question will be for how much, and how much they're going to frustrate and anger their star player through this process. There's absolutely no reason the Wolves have not just offered love the max, five-year, designated-player offer.
Earlier:
Roy Hibbert is unlikely to receive an extension, according to Ken Berger of CBSSports.com. It's more than a little shocking, especially considering Hibbert is coming off one of his most dominant performances of his career against the Lakers, backing down and scoring over Andrew Bynum, even. The Pacers tried to make a bid for Nene in free agency, but without him, if they were to lose Hibbert, their center position would be a massive question mark. Hibbert has been uneven through four seasons, but there's every reason to believe he'll continue to develop ino a top-ten center in the league. A player with his abilities on both sides of the ball should not be overlooked.