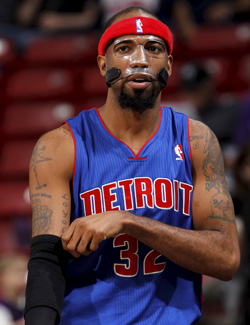 Rip Hamilton "quit" on team according to report, needs to be traded. Now.
Posted by Matt Moore
Rip Hamilton hasn't been happy in Detroit for a while. Losing tends to do that to a guy. The situation wasn't helped when Joe Dumars brought in
Ben Gordon
who plays his position and his role. But as things continue to deteriorate in Detroit as more and more reports of dissension between the players and coaches surface, things with Hamilton may have reached their limit.
From the
Detroit News
:
Hamiltons non-participation in Saturdays practice, along with his upset stomach that caused him to miss Sundays game and complaints about his diminished role have led some in the organization to wonder if Hamilton has quit on the Pistons.

"He quit on us," one team source said. Another team source said Hamilton is acting out of emotion and should adjust.

Hamiltons been on the trading block for two years, and he would like a change of scenery.And, on Sunday, just before a game against the New Orleans Hornets, Hamilton, who was replaced in the starting lineup over the weekend by Ben Gordon, told the team he had an upset stomach and could not play. After the game, a number of people associated with the team questioned his "upset stomach."


via
Pistons sources: Upset
Richard Hamilton
has become a distraction | detnews.com | The Detroit News.
It's an ugly situation and one that Dumars is long overdue in dealing with. both Hamilton and
Tayshaun Prince
have to have some value on the trade market, yet Dumars continues to drag on it. You can argue that it's difficult to move aging players who aren't shooting well, until you realize Gilbert freaking Arenas got moved this week. Dumars is reportedly having difficulty due to the up-in-the-air nature of Detroit's ownership situation.
But at this point, with Hamilton having team members question his integrity, something has got to give.