Bulls Hall of Famer Scottie Pippen is not amused by Carlos Boozer's lack of hard fouls in the playoffs.
Posted by Matt Moore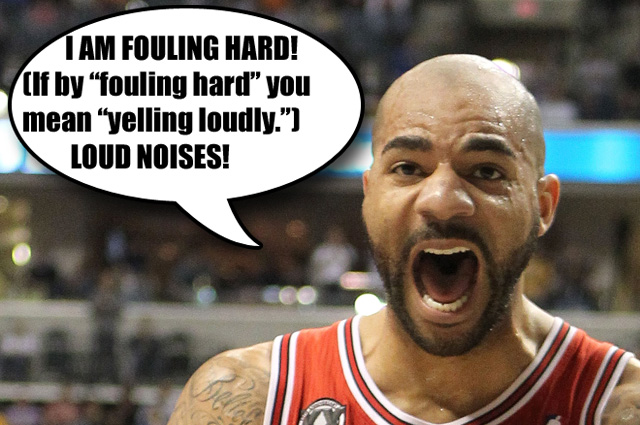 (
image courtesy of Getty Images, EOB illustration
)
Bulls fans are discovering the same thing
Jazz
fans have been saying for years. Yeah, Carlos Boozer is a great post player offensively with nice touch. But his defense is bad. Not "problematic" or "below-excellent." It's bad. He gets taken off the dribble, backed down in the post, worked over, inside and out, doesn't rotate well and has trouble closing. That's just who he is. The whole season he's been available, Tom Thibodeau has done a tremendous job covering for him with his system, to the point where it's unlikely to be the deciding factor in if the Bulls win the championship. But in a series that turned out to be much closer than expected, with the Bulls up 3-1 but still not able to come away with a convincing win against the
Pacers
, there are some questions about the Bulls' defense, and how tough if its. Especially when you start asking questions about why the Pacers are hammering
Derrick Rose
with hard fouls every time he enters the lane and
Darren Collison
skates through. And those questions aren't just coming from fans.
They're coming from Hall of Fame Bulls. Scottie Pippen spoke to the Chicago Sun-Times about the fouls Boozer's leaving on the floor, and M.J.'s running mate isn't too pleased with how that's gone.
''They've all got two legs and two arms,'' the six-time NBA champion said. ''You've got Carlos Boozer out there who's spending fouls and a lot of his fouls are not needed at the time that he's giving them. Those could be hard fouls. Those could be fouls that you knock a [Darren] Collison to the floor, you knock a [Jeff] Foster to the floor.

''Utilize your fouls and make them more valuable for you and your team.''
via
Bulls' Derrick Rose likely to play despite sore ankle - Chicago Sun-Times
.
Pippen's not so much with the watching of the Jazz the last few years, is he? That's not who Boozer is. Never has been, and at his age, never will be.
Boozer's defense in this series actually hasn't been bad. His numbers in ISO and spot-up defense from Synergy Sports are actually pretty decent. He's only been posted on defense four times, though he's given three scores in that frame. As long as the Bulls don't have to play anyone with dual posting threats, they should be fine. But Pippen's point remains. If the Pacers are going to take shots at Rose aimed to send a message, the Bulls' bigs have to respond in kind.
Joakim Noah
is clearly willing to do so, as is
Kurt Thomas
. But Boozer?
Well, Boozer's willing to yell a lot, if that helps.
(Note: It does not.)