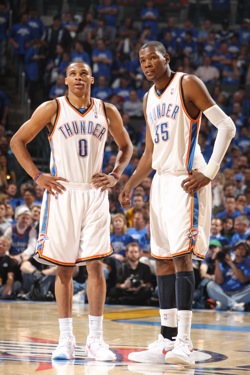 Durant wants everyone to know he's cool with his buddy Russell Westbrook.
(Getty Images)
Posted by Royce Young


Typically, it's the reporter asking the player the questions. That script got flipped Saturday night before the
Thunder
took on the
Warriors
at Oracle Arena.
Kevin Durant
decided to go on the offensive about the whole supposed Russell Westbrook rift.
Matt Steinmetz CSN Bay Area tells an interesting story
about an encounter he had with Durant:
I had just finished doing a television segment from the floor of Oracle Arena a little after 5 p.m., while some Thunder players shot in the background. I was a guest on Chronicle Live, and was talking about Durant, Russell Westbrook and the game itself. After I was done with the hit, I felt a hand on my shoulder. It was Durant, whom I'd never met.

"Hey my man, I've got a question for you," Durant said. "Why does everyone want to talk about who the best player is on our team, whether it's me or Russell? Why does everyone worry about that?"

Naturally, I was defensive and told Durant that's not what I was talking about on television.

"I know," he said. "But you're in the media so maybe you know why some writers and guys like that do it. I just don't get it."

"I'm not sure," I answered.

"I mean, we're on the same team, Russell and me, so what does it matter?" Durant said. "Who cares whether he's better than me or I'm better than him?"
Here's who cares: Media and fans hungry for a fun conflict story. That type of stuff is what's fun to talk about, fun to argue about and fun to read about. It sells. It's a classic teammate vs. teammate story and it's something that's easy to run with.
The question is, what made Durant want to bring this up on his own? Why did he feel the need to talk about it at all? Potentially it had something to do with
ESPN's Ric Bucher declaring Westbrook better than Durant
in a rankings a couple weeks ago. Who knows.
Some kind of see the over-defensive behavior from Durant and Westbrook as a sign they're trying to hide something. But what I see, as a person that's pretty close to the team, is a group of guys frustrated with the negative attention.
It doesn't surprise me at all Durant did that, because he's completely annoyed. Nobody wants quiet synergy and togetherness more than Durant. He wants everyone happy, everyone getting along and the more the noise builds, the more chance it has to shake the walls.
There's no getting around it: Russell Westbrook is an emotional player. He's easily upset, easily excited. He's a ridiculously competitive person and Durant knows all this better than anyone. So I think Durant doing this type of thing is more to try and defend and cover for Westbrook. He wants to deflect everything.
The answer is that it doesn't matter who is better, as long as the team wins. That's the right answer. But that's not really reality. With Durant the team's alpha, Westbrook is supposed to take a back seat to Durant. He's supposed to defer. Durant is attempting to make Westbrook his equal, which is something Westbrook certainly would appreciate. They know this story won't die despite the fact both have signed extensions to play together for five more years.
Whether they like each other or not, the Thunder have a terrific duo and one that says and does all the right things. So from that perspective, Durant has a decent reason to be frustrated. He knows the real story, what's actually going on. Kevin Durant is a very
real
individual. What you see is what you get. There's no show. So it's not shocking that he'd let down his guard and speak directly to a reporter like that. He's being the Thunder's leader, their spokesman and most importantly, himself.