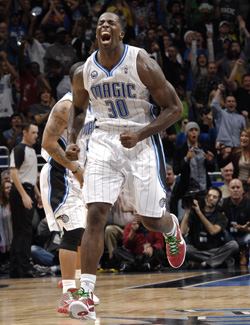 Posted by Royce Young
Just what the
Magic
need. Right now they're clicking, playing some great basketball yet still feeling thin on the inside. And now a big part of that is considering surgery that could sideline him for a month or more.
Forward
Brandon Bass
told the Orlando Sentinel that because of discomfort in his left knee after awkwardly coming down on it against the
Knicks
,
he might consider arththroscopic surgery if it doesn't improve.
"I might need to get it scoped, be out a few weeks," Bass said. "I don't know. We'll see."
Bass has missed the team's last two practices and has dealt with some swelling. This wouldn't just be a downer for the Magic but for him too. He's long been frustrated with his situation in Orlando being stuck behind
Marcin Gortat
and
Rashard Lewis
only to now not only find himself as part of the starting five, but as a major part of it.
With him playing alongside
Dwight Howard
as a legitimate 4-man, Orlando has turned into one of the better interior teams. Bass is an inside-out power forward with the strength and size to handle just about anyone down low.
But if he's out for a month -- or more -- the Magic will have to absolutely increase their efforts to add depth inside with Howard. Right now there's not a backup center on the roster and behind Bass is only
Ryan Anderson
, more of a finesse power forward. There's also
Malik Allen
but I think he's close to 60 years old at this point.
Point is, if Bass elects for surgery, Orlando is going to have to get serious about making a move. For now the Magic have felt like they could take their time, but their hand might be forced.
And more importantly, if the knee doesn't improve for Bass, the Magic want him healthy heading into the stretch run so they'd probably be fine if he's out as long as it means he's ready in April.