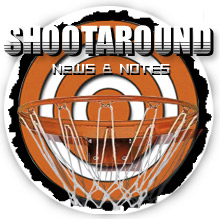 Teams that didn't win big, Philly's bigs need to come up big, and Jefferson just is big, all in today's Shootaround. Posted by Matt Moore

So we always debate the best championship teams. But what about the
best teams that didn't win a title
? Dime took a look at those squads and added the 08-09 Cavs. It's hard to imagine that team holding up over time as we look back at
Mo Williams
' and
Antawn Jamison
's careers. The 2002 Sacramento
Kings
, though? That was a pretty great team. One objection? The 2007 Dallas
Mavericks
need to be on that list. Had the Mavericks not drawn the
Warriors
in the first round, it's hard to see how Cuban wouldn't be coveting his ring.
A Sonics fan tells Kings
fans to pray
, because the NBA doesn't care. It should be amended, though to "Pray, because the NBA doesn't care as long as you continually vote down measures for new stadiums. I'm not saying you should have to pay for new stadiums. I'm saying as long as you refeuse to, you open yourself up to getting
Thunder
'd. There's a reason Orlando fans are going to be enjoying the Amway Center this season while Sonics fans enjoy the Seahawks this fall.
A great feature on
DeMarcus Cousins
and his family history
. There's so much talk about Cousins being a problem child, but he hasn't been in trouble since the tenth grade. I've never understood how a kid that hasn't had trouble in four years since he was a young teen is somehow a huge concern. Everyone's going to be regretting passing on Cousins when he and Reke are running the pick and roll for years.
The
Daniel Orton
era is pointing toward bustville. After being considered a reach to begin with, then getting worked over in Summer League, Orton
will miss the entire preseason with a knee injury
. Orton needs to spend time in the D-League, but the
Magic
almost never assign their players, which only increases the odds that Orton will flame out.
Speaking of big man injuries,
Tiago Splitter
tweaked his right leg yesterday
(via Yahoo! Sports' Marc Spears).
Sixers president Rod Thorn
says their success is dependent on their bigs
.
Elton Brand
is specifically pointed out in the excellent piece by SI's Chris Mannix, but Mareese Speights also needs to stay healthy and take steps into becoming a legit power forward. It's time for him to capitalize on that youthful potential and great per-minute numbers.
Take note of this. It may just be pillow talk. But Eric Spoelstra says that the
unselfish play necessary to share the ball
for the
Heat
is already there. That's really relevant for a team with such high usage. You need to be able to operate as an actual functioning offense so that you don't wind up looking like an All-Star team. You know. The kind that winds up with the ball off-court more than Anna Kournikova (remember her?).
International superstar
Dirk Nowitzki
? He's not so much
a fan of the goaltending rule change being proposed
.
Kobe's going to
get some run in the international exhibition games
. Because he's a freak of nature with no "off" button. There isn't another player who if they were at Bryant's level would wnat to play in these games with the injuries he's still recovering from. The man is more driven than any human being alive.
Al Jefferson
may have showed up out of shape
, but Jerry Sloan a. isn't pointing him out specifically in discussions of players being out of shape and b.) apparently
doesn't look like he's out of shape
. It'll be interesting to see how this plays out and if he gets off on a bad foot with Jerry Sloan. Patient fatherly figure that he is.