Posted by
Ben Golliver
.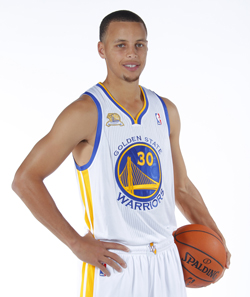 Update (8:09 p.m. Wednesday):
The Contra Costa Times reports
that an MRI on Golden State
Warriors
guard
Stephen Curry
's ankle revealed "no structural damage." Curry is listed as day-to-day.
Original Post:
Oh no, not again.
Golden State Warriors guard Stephen Curry suffered a right ankle injury during the second quarter of a Tuesday night preseason game against the Sacramento
Kings
at Power Balance Pavilion.
The Warriors announced
that, after an X-ray, Curry's injury is being called a "sprain."
He will be "re-examined" on Wednesday and his availability is currently unknown. The Warriors host the Los Angeles
Clippers
for their season opener on Christmas Day.
The San Francisco Chronicle reports the gory details
.
Curry was trying to defend Jimmer Fredette's crossover at the top of the key when his ankle gave way. He crawled toward the sidline at midcourt in agony and put little pressure on the troublesome ankle as teammates Charles Jenkins and Tommy Mitchell acted as his crutches to the locker room.
Curry left the game after tallying 7 points, 5 assists, 2 rebounds and 3 steals in 14 minutes. Just 23, has fought a seemingless endless battle with ankle injuries as a pro, and he underwent surgery to repair ligaments in his right ankle last May.
Back in November,
Curry told CBSSports.com
that he was confident and felt "unlimited" following the surgery but that he would need to use training camp to be sure it could hold up to game conditions.
"I don't know what it's going to feel like," Curry admitted in November. "The first week of training camp will be able to tell me exactly where I'm at with the rehab and physically speaking. When the actual games start, I don't want to be limited [minutes-wise], so hopefully the week of training camp that we have will allow me to just get out and play and help my ankle respond when I'm out there competing."
Curry scored 22 points, grabbed six rebounds, dished six assists and had three steals in Golden State's first preseason game against the Kings on Saturday. The Warriors won, 107-96, at Oracle Arena.