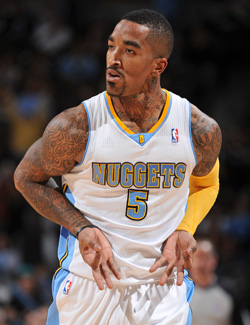 J.R. Smith has been mentioned in recent trade rumors with the Hornets and Bulls.
Posted by Matt Moore
We've really come full-circle on J.R. Smith. In August
we told you Smith was on the block
in Denver. You remember August. Those halcyon days when the
Heat
were still elite and
Yao Ming
was going to help the
Rockets
back into contention. Then
he choked a guy
in practice. Then the guys who were
going to trade him got fired
. Then he went on to have a solid season, if prone to his usual hijinx. Now? Back on the block. Yahoo! Sports reports:
The Chicago Bulls are still making calls on J.R. Smith to solve their shooting guard issues, but red flags on Smith's character have made the Bulls cautious. "They just don't want to mess that locker room up," one source with knowledge of the talks said.
via
Anthony distances himself from
Nuggets
- NBA - Yahoo! Sports.
The report also indicates that the Hornets have expressed interest in Smith as well. That's two playoff teams, considering bringing in one of the jump-shotiest,
nasty-jammiest
,
unnecessarily flagrantiest
, most unstable players in the league in to fill their two-guard spot. This is with
O.J. Mayo
on the market, who is probably the preferred option for many. Think about that. The guy who has been benched, got into a fight on the team plane with
Tony Allen
, and then busted for PEDs is considered the more attractive option at his position. But there Smith is, getting offers from playoff teams because when he's hot? He's nova.
But Smith can't be relied on in the locker room or on the floor. George Karl pretty much has to set aside a separate string of philosophies when it comes to dealing with Smith, be it his defense or his superhuman desire to always shoot the ball, often in the most contested way possible. The fact that Smith is as good as he is despite his basketball IQ is stunning, but there it is. Too talented not to garner interest, too insane to draw too much.