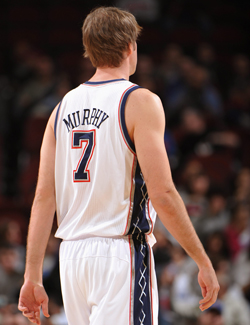 Troy Murphy plays a surprising part in the Carmelo Anthony trade talks, and will likely be headed somewhere else soon one way or another.
Posted by Matt Moore
Troy Murphy is not a big name in the NBA. Last season in Indiana he averaged a double-double with 15 points and 10 rebounds. He was considered a long-shot for the trade asset the
Cavaliers
wanted to push them over the top which ended up being
Antawn Jamison
, which didn't work out well and we'll leave it at that. Then he was traded to New Jersey and was supposed to be part of the
Nets
' ascendance out of the gutter. Instead, he suffered through injuries, then Avery Johnson essentially told the 30-year-old to take a hike. So he's been hanging out and there are quite a few teams interested in his services, as a veteran big who can actually shoot, but no one wants to pay for him in a trade when they might be able to get him in buyout.
And this, of course, leads us back to Melo. For the last 24 hours, news reports have spilled out the same news, tha
t the nine-player trade reportedly "agreed to
" with the Nets involved the
Nuggets
getting Troy Murphy. Except that multiple reports have stated that the Nuggets unequivocably would not take Murphy. And that falls in line with Denver's M.O. this entire time, which is that they want all the good assets, to dump salary, and take on nothing. They want everything they desire in exchange for the All-Star. Yet all this talk went around about Murphy being sent to the Nuggets, who would have less than five days to turn him around.
Now we're starting to see a potential plot-line for Murphy winding up in the Melo deal plausibly.
First off, the
News-Herald in Ohio reports
that the Cavaliers are offering to step in and take Murphy in order to get one of the four first-round picks the Nets are offering. The Cavs are basically looking to be used as a "
parking lot
" for big expiring contracts using the
LeBron James
trade exception in order to clear space and get picks. Which is exactly what they should be doing.
How ironic would it be if the Cavaliers used their trade exception created when LeBron James left them high and dry in order to help the Nuggets avoid the same fate with Carmelo Anthony? Am I the only who finds that funny? Cleveland, no? Denver, no? OK, then.
Meanwhile, the
San Francisco Chronicle reports
that
Warriors
GM Larry Riley says they have had talks with New Jersey about Murphy, and are looking for a player or a pick. Riley emphasized that they don't have a deal in place, but they've been in the talks.
Should the
Knicks
talks break down and Melo suddenly get in a room with Prokhorov and get convinced, Murphy's going to have to go somewhere other than Denver. But it certainly looks like there are candidates ready to park Murphy's contract, especially when you consider he can still produce on the floor. Even if the Melo-Nets deal falls apart, Murphy's likely to be moved in another trade, or bought out after the deadline. His time in New Jersey is mercifully coming to a close.