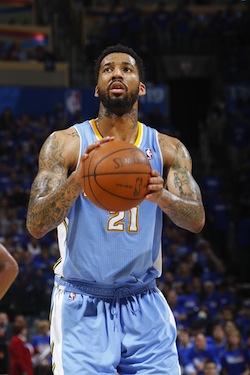 Posted by Royce Young
Wilson Chandler
is definitely not going to Italy during the lockout. Or the NBA for that matter, even if the lockout is lifted. A restricted free agent with the
Nuggets
,
Chandler told ESPN.com
that he has signed to play in China with Zhejiang Guangsha.
What does this mean? It all but assures that Chandler will not play in the NBA this upcoming season as the Chinese Basketball Association passed a rule that does not allow players to opt-out and return to the NBA.
"Maybe I'll lose out," Chandler told ESPN.com. "But I think it can be a great experience. I haven't been in any [labor negotiation] meetings. I can't call it. I'm just taking a risk, at the end of the day."
There is a chance Chandler could return to the NBA on a prorated level though because the Chinese league concludes action in April. But that of course hinges on there being an NBA in April.
The deal is for one year but the amount hasn't been specified. Chandler's agent said it was for less than the $3.1 million owed to him by the Nuggets and more than the reported $1.7 million he was close to signing for in Italy.
Chinese teams are only allowed a max of two foreign players so with Chandler, the Lions are at their limit having signed
Earl Clark
of the
Magic
recently.
Chandler's not some kind of player to just overlook and move on about. He's a pretty solid NBA player. He's just 24 and averaged 15.3 points a game last season in Denver and would likely have an increased role there next season if he were to stay. The Nuggets by all appearances intended to re-sign him, so this is kind of a blow to the team. The cost of the lockout, I suppose.
I don't know if we're to take this as an indication the lockout is going to wage on for a while or just if Chandler was ready and willing to sign so he could draw a paycheck. It tends to say that Chandler has a pessmistic view of the season, because he's taking less money to play in China. Or it says that because of salary rollbacks likely coming in the new CBA, that a player like him would likely make less than $3.1 million.
I guess what I'm saying is, I don't really get why Chandler would sign in China right now. But he's there and for at least a season. Sorry, Nuggets.