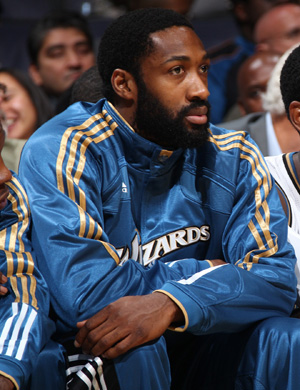 Arenas fined $50,000 by league for faking injury
Posted by Matt Moore
Gilbert Arenas
has paid his debt to society after spending a month in a detention center earlier this year following his sentencing for felony gun possession. Now apparently he's decided to start working on paying his debt to the league, since he keeps finding inventive ways to send them dough.
The
Wizards
fined Arenas $50,000 for lying to Flip Saunders
about an injury in order to get more time for
Nick Young
on the floor. It's a pretty healthy chunk of change. And it's not the first or last time Arenas has shelled out some dough to the league.
In 2009, Arenas was fined $25,000 for refusing to speak to the media during the preseason. Prior to that he was fined $7,500 for criticizing offiicials. And, you know, all the court fees, lawyer fees, and dough lost during his suspension last season. Add all that up and it's enough to take a huge.... nothing out of his income. Arenas makes $216,227 per game this season. Subtract all the mone he's paid in fines over the past three years from his first paycheck this year and he'd still have over $133,000 to buy all the gold-plated guns he wants.
And that's got to partially be why Arenas fails to change his behavior. Sure, you'd expect maturity, or maybe even simple deductive logic to take some sort of effect, but I think we can agree that ship has sailed. In the meantime, only punitive efforts can hope to alter his behavior, and, well, they're not getting the job done. This isn't to say that Arenas needs to be fined more, or have any harsher punishments handed down. What he did simply wasn't a big deal. But if we wonder why Arenas fails to take anything seriously, why he acts petulant and immature regarding all of these public relations disaster and his lone criminal act which was very much dangerous to himself and others, perhaps it's that vantage point of perspective that he's incapable of reaching. No matter what's happened to him, his life isn't very much different. He gets paid, still, and while losing last year's salary was surely a blow, he is making $17 million this season, which probably makes the recovery path a bit easier.
$50,000 is a stiff slap on the wrist from the Wizards, and yet it's a drop in the bucket, just as this latest silly act was a drop in the bucket of his facepalm-worthy moments.
This is Arenas. And he isn't changing. And all the fines won't even make him blink. Unless, you know, the owners manage to make contracts non-guaranteed. But then we'll have bigger issues because hell will have frozen over.