Mayo makes goggles into guns as he shoots down Spurs in Game 4.
Posted by Matt Moore
O.J. Mayo
, after nailing a huge 3-pointer in the
Grizzlies
' huge Game 4 win Monday night, decided to have some fun with the "3 goggles" trend sweeping the league (started in Portland):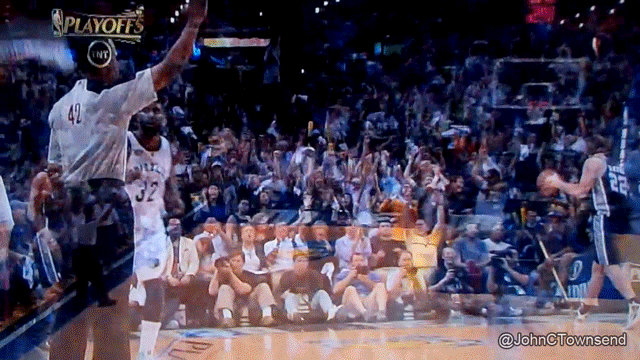 The question is if that constituted a "threatening gesture" or not. If you'll remember, the NBA fined
DeShawn Stevenson
for
making a "throat slash" gesture
, and
Paul Pierce
was fined for something
even more innocuous. Since Mayo's technically imitating guns, the NBA in its notorious sensitivity could wind up taking a glance at this.
We hope not, since this was a pretty innovative approach to the "3-goggles" gesture started in Portland and sweeping the NBA. It's good to see Mayo with his swagger back after what has been a pretty disruptive season.
(Via J
ohn C. Townsend on Twitter
.)