After O.J. Mayo and Tony Allen scuffle on a team flight, we wonder what other games might best replace Bourré on chartered flights to prevent future incidents.
Posted by Matt Moore with contributions from Ben Golliver and Royce Young
Ken Berger lays out the case
for the NBA to abolish gambling on NBA charter flights, an age old tradition. Berger's right to point out that as long as gambling is allowed on planes, these kinds of disputes are going to continue. But in our efforts to take a pragmatic step towards eliminating conflicts over these games, perhaps we should move the gambling to an alternative contest. And so, we present a series of games that may best replace Bourré as the game of choice for NBA rounders. Our scale will be on one-to-five Tony Allen punches, with one being very unlikely to lead to suspensions, and five being very likely to lead to suspensions.
The Culprit: Bourré
The object of Bourré is to take a majority of the tricks in each hand and thereby claim the money in the pot. If a player cannot take a majority of tricks, their secondary goal is to keep from bourréing, or taking no tricks at all. A bourré usually comes at a high penalty, such as matching the amount of money in the pot.
via
Bourré - Wikipedia, the free encyclopedia
.
So you've got a trick game, which is problematic in and of itself, combined with a "must play to win" element and the possibility of significant loss of money with the bourré. See, that's just not a game you want involved with guys amped up on testosterone and dealing with competitive natures on a plane with significant money involved. You're asking for trouble. This game is not well suited for NBA players. It's got the ability to have exponential pots. It's got to go.
Rating: Five Tony Allen punches






The Team-Builder: Go Fish!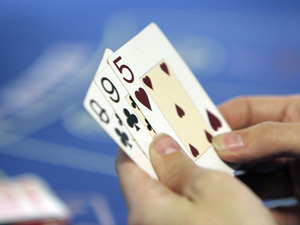 Go Fish is competitive and can lead to taunting, sure. "So, do
you
have any threes, Gilbert? Oh, I guess only in practice!" But it also lets you learn about one another's mindset "Who always asks for face cards?" and teaches giving. And it reinforces the idea that you should have nothing left at the end of the game. Throw in the fact that it relies on the honor system, and you've got a terrific option for NBA players
or
their seven-year-old children.


Rating: One Tony Allen punch


The Mind Game: Bluff
Also known by another less kid-friendly name involving a male cow, Bluff is a wonderful game for learning about your teammates. Being able to determine when your teammate is lying, what his tells are, will help you understand his body language in game. With limited capacities for gambling fit in, the game can look ideal. But it also encourages lying to your teammates, deception, and challenging one another on the premise that you feel they are dishonest. Not exactly encouraging of a friendly environment.
Rating: Three Tony Allen punches




The Life-Skill Teacher: Monopoly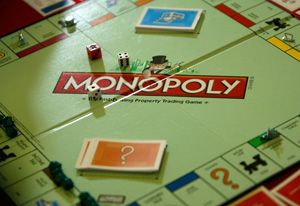 NBA players too often have their own ideas about spending their money and are too often misguided. The classic game with the creepy Mike D'Antoni character as the mascot would do wonders for learning how to manage your assets. It reinforces that the priciest assets aren't always the most valuable, that efficiency is valued over excess, and that energy is important. Unfortunately, it also reinforces the idea that if you have the right piece of paper, you can get out of prison, and that money is the end of everything. There are some ups and downs here.
Rating: Three Tony Allen punches




The Allegory: Hungry Hungry Hippos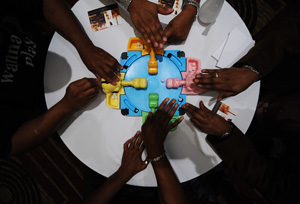 Buys into the competitiveness while combining it with a sense of whimsy. Reinforces the idea of always being active and consistently finishing through the end of the game. Exceedingly difficult to gamble on. Game not well suited for players' hands. Also difficult to steady on charter flight in turbulence. Also teaches that he who consumes the most is best, not great for sharing instincts.
Rating: Two Tony Allen punches


The Greater Game: Chess

Teaches total team effort. Encourages critical thinking. Reinforces team concept. Difficult to gamble on in a group setting unless you get into a prop bet situation. Can breed competitive nature and trash talk, though. Chess is a high-minded game and the kind of thing coaches like Phil Jackson would want his players to play. It's also boring as all get out to watch and difficult to play.
Rating: Two Tony Allen punches



The Tough Guys: Rock 'Em Sock 'Em Robots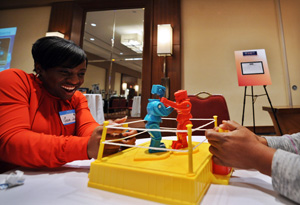 Reinforces competitive spirit without endangering anyone, allows for release of tension and embraces violent tendencies without any long-term harm. Difficult to bet on due to arbitrary nature of robots. Focuses on possibility of injury and why punching each other can be dangerous.
Kevin Garnett
would have to figure out a way to have the robots retreat after the first punch, but all in all, a great option.
Rating: One Tony Allen punch


Leave your best ideas in the comments or hit us up on Twitter at
@cbssportsnba
and we'll post the results tomorrow.