Posted by Royce Young
The
surfacing trade talk
surrounding
Chris Paul
just seems
crazy
. How could the
Hornets
just let go of their franchise player? How could they give up one of the best players in the league? How could they give a potential all-time great?
Sometimes, it's not about what the team wants. It's about what the players
demands.
In some cases, there's just no way to stop a runaway train. And regardless of how things go down in New Orleans, the Hornets aren't going to let Paul go for free. They want, they
need
, something worthwhile in return.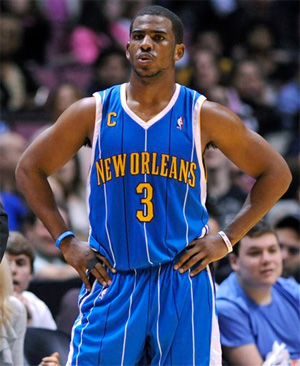 Not only do the Hornets need to make a substantial deal just in basketball sense to replace Paul, but they're at risk of completely losing their fanbase as well. Chris Paul
is
the New Orleans Hornets. They have to make some sort of deal that can be somewhat justified to the fanbase, otherwise this may be the second death of basketball in New Orleans.
Take Minnesota for example.
Kevin Garnett
was the face of the franchise for 12 years before finally asking for a way out that led to him landing in Boston. The Wolves received
Ryan Gomes
,
Al Jefferson
, Theo Ratliff,
Sebastian Telfair
, Gerald Green, a top-three protected draft pick (which turned into
Wayne Ellington
) and cash. How many of those players are still with Minnesota? Just Ellington who was taken in 2009. The Wolves still haven't recovered from the deal and honestly, no resurrection is currently within sight.
Another example of how things worked out better for a team departaing with their man was Toronto trading
Vince Carter
to New Jersey. In exchange, the
Raptors
received Alonzo Mourning, Eric Williams, Aaron Williams and two first-round draft picks (turned into Joey Graham and the second one was traded to New York) for their franchise player. The Raptors went the rebuilding route instead of trying to receive talent and though it took a little time, they recovered. Of course having
Chris Bosh
helped, but the point remains.
The thing is, the Hornets aren't going to be completely left floating aimlessly in the ocean if they trade CP3.
Darren Collison
had one of the most impressive rookie campaigns for a point guard in a while, and that was in a limited number of games filling in for the injured Paul. Last season Collison started only 37 games but averaged 12.4 points per game and 5.7 assists per game. He had 14 games with 10 or more assists and even dished out 20, 18 and 15 helpers in three games. For a rookie, that's quality stuff.
So the Hornets aren't looking to grab a point guard back in a deal. They need help on the inside since as Ken Berger mentioned,
Emeka Okafor
is going to most likely be included in the deal. New Orleans is a franchise that's always search for financial relief, so of course a hefty non-guaranteed contract (
Erick Dampier
cough cough) or at least a few expiring deals might suffice.
But they also want assets. Draft picks, and high ones at that. The Hornets are going to be left in rebuilding mode and likely can't sell their fanbase on a few expiring contracts and a a late first round pick. But they also need interior help and a scorer.
Marcus Thornton
has emerged as a candidate to potentially remedy the latter, but who can play inside for NOLA?
David West
?
Julian Wright
?
Even with Paul, the Hornets need help. The key in any deal sending the franchise somewhere else is that the returning package is the short road to rebuilding. A deal like what
Matt Moore constructed involving Orlando is ideal
. Some assets, an expiring contract and a couple quality players that can actually help on the floor in the near future.
The Hornets have two ways to go in a deal involving Paul. They can either be left the way Minnesota was, in shambles trying to find the new face of the team and scrambling to rebuild or grab assets and flexibility like Toronto and trust they'll find their way back.
Otherwise, the Hornets might not just be trading away Chris Paul, but basketball in their city as well.