Phoenix Suns president Rick Welts reveals he is a homosexual in a New York Times article. Posted by Ben Golliver.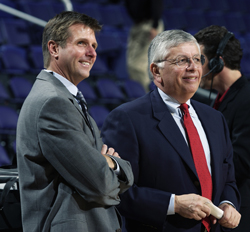 Rick Welts, the president of the Phoenix Suns and a long-time NBA employee, publicly revealed that he is a homosexual for the first time in
an article in the New York Times
on Sunday.
Welts says he lived in secrecy for decades because of the stigma attached to homosexuality in the world of professional sports.
"This is one of the last industries where the subject is off limits," said Mr. Welts. "Nobody's comfortable in engaging in a conversation."
ESPN.com.com reports
that Welts' admission makes him a trailblazer, noting that he is "believed to be the first man in a prominent position in men's sports who has declared his homosexuality."
So why, after all these years, did Welts decide to come forward? The
Times
writes...
Mr. Welts explained that he wants to pierce the silence that envelops the subject of homosexuality in men's team sports. He wants to be a mentor to gay people who harbor doubts about a sports career, whether on the court or in the front office. Most of all, he wants to feel whole, authentic.
Perhaps the most illuminating aspect of this admission is that two prominent NBA figures -- NBA commissioner David Stern and Phoenix Suns All-Star guard Steve Nash -- both were well aware of Mr. Welts' homosexuality but had not discussed it with him directly. In Stern's case, he showed silent, indirect support. In Nash's case, he simply thought everyone already knew that Welts was gay. That both of those reactions existed shows just how complicated living his life in silence must have been for Welts.

While he has risen to the top of his profession, Welts likely still felt like an outsider in a very personal way. Stern commented that he hoped "the world will find this [admission] unremarkable," but clearly this will be a remarkable moment for Welts himself.

It wouldn't be surprising at all if his admission, and the peace of mind it will likely provide going forward, inspires other executives in similar situations to come forward.