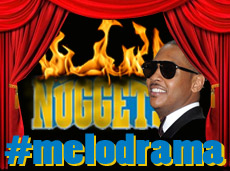 Posted by Royce Young
The shelf life for trade talks that go public isn't very long. Eventually, they just dry up and die. And that was definitely the case for the current four-team
Carmelo Anthony
trade to the
Nets
. According to multiple outlets and
confirmed by Ken Berger of CBSSports.com
, the
current
deal is dead.
As Berger reported, the potential trade was hung up and stuck in a state of inertia while everyone sorted things out. But it became clear to the
Nuggets
that this was a deal that could cost them money, therefore, they started wanting more and more.
But here's where there could be some confusion: Yes, the four-team deal involving the Nets, Nuggets,
Bobcats
and
Jazz
is dead. But that doesn't mean a Carmelo-to-the-Nets deal is dead. Both Berger and
Benjamin Hochman of the Denver Post
have reported that talks are continuing, with Hochman adding that Melo won't be traded today. But something could go forward soon for sure.
The Nets still want Anthony and are willing to hang in there. But the Nuggets continue to push for more for their star (and why wouldn't they?), so the talks have been hung up on a number of snags. There's no doubt this could eventually be revived in another revised deal, but just because the current one is dead doesn't mean Carmelo can't still go to New Jersey. If the Nets want him and Carmelo agrees to signing an extension there, you can be sure they'll put together another package and find a few new teams to make this thing happen.
Berger reports the Nuggets are trying actively to find new places for
Kenyon Martin
and
J.R. Smith
, so they can offload almost $25 million in salary. Ken mentions this thing would likely have been done if the Bobcats hadn't waived Erick Dampier two weeks ago. Dampier had a non-guaranteed $13 million contract, which could've been a perfect exchange for Martin. Adding Dampier into the deal would've saved Denver in the neighborhood of $33 million when factoring in luxury tax savings.
At this point, it feels a little like Denver might be holding on to trying to play a little of the season with Anthony. But there's never been any indication Carmelo intends to stay in Denver past this season, so it's probably a pipe dream to convince him to stay. But the Nuggets still hold the cards and if they want, can have Carmelo for at least one more full season in Denver.