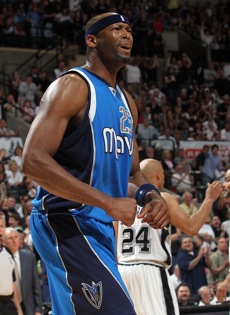 Posted by Royce Young
For reasons that still confound me, there's been quite the hub-bub over where Erick Dampier might sign. And it looks like we might finally have an answer. Maybe.
Ira Winderman of the Sun Sentinel reports
that Dampier worked out for the
Heat
today and that he's already gone through the meet-and-greet process. Winderman added that Dampier's signing appears "imminent, if not already done."
So we can go back to worrying about Carmelo now, right?
Not so fast. Ken Berger of CBS Sports says according to a source close to the situation, no decision has been made, but Miami is in the lead with Houston and Denver also in the mix.
Chris Mannix of Sports Illustrated also says
no deal has been done according to a league source. A decision will likely be made by tomorrow.
If
Dampier signs with Miami, that would put their already large roster at 19 players, meaning training camp should be a lively one. Indications are that
Da'Sean Butler
will have the 15th roster spot with
Kenny Hasbrouck
and
Patrick Beverley
likely missing out. But that still means there are two spots that have to be cut. With Dampier, an extra big man like
Shavlik Randolph
becomes expendable and rookie
Dexter Pittman
might be sent to the D-League.
The reasoning for the Heat to go so hard after Dampier still escapes me as well. Granted, it's not the strongest front line (though it probably is the slowest), but there's already a pretty good logjam there. Miami has
Joel Anthony
,
Zydrunas Ilgauskas
,
Jamaal Magloire
,
Udonis Haslem
,
Chris Bosh
and
Juwan Howard
already on the roster with guaranteed deals. Now you add Dampier. Where does he fit? Who does he play in front of? Dampier is more capable of defending say,
Dwight Howard
than some of those others, but it makes you wonder if Miami would like to dump Magloire right about now if this signing happens.
I guess he maybe starts over Anthony, but still that's a good number of veteran players that will be spending a lot of time on the bench. But seeing as the combined age of the Heat's centers is something like 700 years old, maybe it's good to have a few extra.