The Los Angeles Lakers evened their first round series with the New Orleans Hornets on Wednesday night. Posted by Ben Golliver.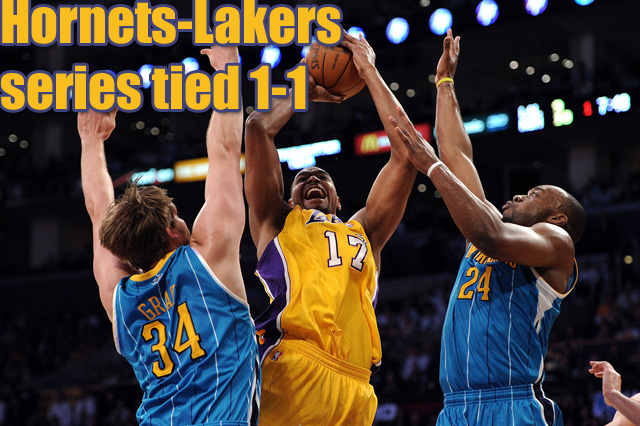 Championship teams can beat you at their game, and they can beat you at your game, too.
The Los Angeles Lakers looked like a genuine contender for the first time in a few weeks on Wednesday, downing the New Orleans Hornets in fairly ugly fashion, 87-79, to even their first-round series, 1-1. Only the Portland
Trail Blazers
played at a slower pace than New Orleans this season, and the out-gunned Hornets are happy to muck around in a low-scoring, sloppy setting when facing the longer, more athletic and more talented Lakers. With
Kobe Bryant
having an off night -- 11 points on 3-10 shooting -- and
Pau Gasol
continuing to do his Invisible Man routine -- eight points and five rebounds -- Wednesday was the rare night. If was a night in which
Andrew Bynum
became L.A.'s headliner.
The biggest man on the court was the obvious difference-maker, showing up huge in the box score and the game plan. And Bynum's contributions were especially valuable on a night when both teams combined to commit 29 turnovers, and were whistled for 42 fouls that led to 54 free throws.
For a center, owning the paint comes down to finishing at the rim and clearing the defensive glass in traffic. That was Bynum's Modus operandi in Game 2, after proving in Game 1 that no one on the Hornets' undersized roster can really handle his strength and bulk in the post.
On Wednesday, the Lakers smartly exploited that fact, turning to Bynum regularly in the halfcourt set. Bynum scored 17 points on 8-11 shooting and had
Emeka Okafor
in early foul trouble again. Bynum was also the reason that many New Orleans possessions went one shot and done, as he gathered in 10 defensive rebounds and helped hold the New Orleans' bigs (Okafor,
Carl Landry
,
Aaron Gray
,
Jason Smith
,
D.J. Mbenga
, Jason Smith) to just five combined offensive boards in 93 minutes.
Bynum showed comfort away from the basket on both ends, too. On offense, he stepped out to hit a few jumpers of varied length. If developed, that's a dimension to his game that could make him lethal. On defense, meanwhile, he ran regularly at Hornets point guard
Chris Paul
, especially late, contesting shots and walling off the court. Taking up space, but doing it with a bit of grace. His ability to step out when needed, and then return to the boards, impacted a number of scrums and, by the fourth quarter, it was clear that the Hornets bigs were worn down and simply not competing as hard as he was. Bynum's defensive numbers -- two blocks and one steal -- don't do his impact justice.
Pro Basketball Talk quoted
Lakers coach Phil Jackson on Bynum's night.
"We know that [Bynum] is the one that plays well against this team because of his size," Phil Jackson said after the game. "He really carries things pretty well, so we're confident in him having a good game … we think he can play at an even higher level than this."
Jackson's right. Bynum is still scratching the surface of his potential, mostly because he's so far down the normal offensive pecking order. Bynum scored 20+ points just once this season. Could he average 20 points per game next year if he was on a team that needed him to be the go-to scoring option, and he stayed healthy enough to play big minutes? I don't see why not.
That team isn't yet the Lakers, but it could be in a few years. Bynum's evident maturity -- there's a lot less pouting these days -- makes imagining his future a tantalizing project. How much higher a level can Bynum reach? Who knows. But he looked like the NBA's best center not named
Dwight Howard
on Wednesday. If he continues to play at this level, pencil the Lakers into the Western Conference Finals.