Posted by Royce Young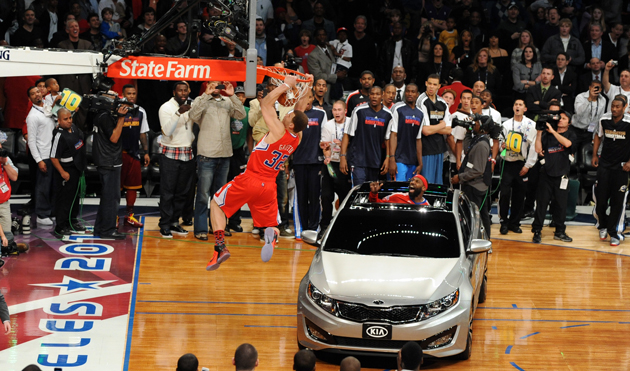 Blake Griffin says he'll make a decision on the dunk contest when he's asked.
(Getty Images)
Blake Griffin said last week he wouldn't defend his dunk crown this All-Star Weekend in Orlando. But he's reconsidering. Or will consider when he's asked.
Via the Orlando Sentinel
:
"I'm not even really worried about it right now or thinking about it, to be honest," Griffin said after the Clippers finished their shootaround for their game tonight against the Orlando Magic at Amway Center.

"I haven't been approached yet, so we'll see what happens with that. We'll see what they're going to do, and I'll guess I'll make a decision."
Again, Griffin had already indicated he wouldn't participate saying, "As of right now I don't plan on being in it." But I guess he wants to just wait to make that call when he's formally asked.
"Last year was hectic and it kind of made it unenjoyable," Griffin said last week. "So this year, we'll see what will happen, but I will try to tone it down a bit and get a break instead of being so busy."
I highly doubt Griffin is actually reconsidering but he sort of is. I don't know what "we'll see what they're going to do" means, but that seems to have a factor in this decision.
Griffin obviously would be a major name to put in the contest and the league would love to have him. He's one of the top dunkers in the league in both numbers and style. He said before last year's dunk contest that he won that he's never lost a dunk-off in his life.
But Griffin could have a busy weekend coming his way as last Thursday,
the NBA announced
that Griffin, 22, was voted by the fans to the starting lineup of the Western Conference All-Star team. Which means if he did the dunk contest and even played in the Rookie Challenge, he'd have another full plate, which I'm sure he'd rather not have.