The Golden State Warriors and Philadelphia 76ers are reportedly discussing a trade involving Monta Ellis and Andre Iguodala. Posted by Ben Golliver.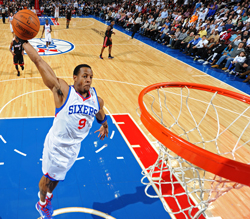 Two almost All-Stars reportedly find themselves in the middle of cross-conference trade talks.
ESPN.com reports
that the Golden State Warriors and Philadelphia 76ers are in early discussions about swapping guard Monta Ellis and forward Andre Iguodala.
The Golden State Warriors and Philadelphia 76ers have discussed a trade that would send the Warriors' leading scorer, Monta Ellis, to the 76ers for Andre Iguodala, according to league sources, including one with direct knowledge of Golden State's thinking.

One source stressed that completion of the deal is not imminent but that it has merits for both sides.
Ellis, 25, is on the books for each of the next three seasons at $11 million per year.
Iguodala, 27, is owed considerably more money: $13.5 million in 2011-2012, $14.7 million in 2012-2013 and $15.9 million in 2013-2014.
Their current salary numbers mean that the two players could be traded straight up, if necessary, but other pieces could always be involved.
For all of his efforts to improve and do more, Ellis is pretty much still a one-dimensional scorer. There's no question that he can fill it up, though, as he was No. 8 in the NBA in scoring last season, putting up 24.1 points per game.
Iguodala is best known for his defense and all-around versatility but he can score and finish, too. Last season, he averaged 14.1 points, 5.8 rebounds and a career-high 6.3 assists, helping lead the 76ers back to the playoffs. He dealt with nagging injury issues for a good chunk of the season, missing 15 games.
Swapping players straight-up would be a home run for Golden State. The Warriors desperately need quality defenders, size on the wing and a resolution to the franchise's two most critical problems: Ellis and
Stephen Curry
both need the ball in their hands and both guards also lack the size and tools to defend a good chunk of NBA guards.
For Philadelphia, the logic is a bit muddled. Iguodala and
Evan Turner
, the No. 2 pick in the 2010 NBA Draft, are a bit redundant, and Turner will continue to require more touches and shots as his career progresses. Adding Ellis in Iguodala's place certainly doesn't solve that problem. There's also the issue of position. Is Turner a 2 or a 3? If he's a 2, then there's no way that a pairing with Ellis would work, as Ellis is also a 2. If he's a 3, then Philadelphia is setting itself up for a serious downgrade when it comes to perimeter physicality.
Golden State has proven that it's willing to spend money, so taking on the extra money owed to Iguodala isn't that big of an issue. In the new owners' eyes, that investment would pay for itself if he teams with Curry and
David Lee
to help the Warriors reach the postseason for the first time since 2006-2007.
For the 76ers, getting out of Iguodala's contract is going to have to happen at some point. With young talent like Turner,
Jrue Holiday
and
Thaddeus Young
in the pipeline, they'll be cutting some big checks in the relatively near future. They're not in panic cost-cutting mode yet though. They can continue to proceed deliberately.
While receiving Ellis in return for Iguodala is good value on paper, it makes far less sense given the 76ers' roster construction. Golden State likely needs to sweeten this one, or it will fizzle.