Posted by Matt Moore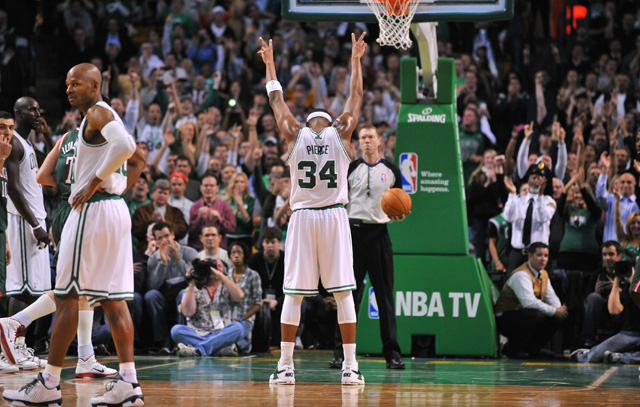 Truth stays true. At least, it did Wednesday night for the
Celtics
.
Paul Pierce
knocked down his 20,00th career point at the line against the
Bucks
, helping the Celtics to hold off the Bucks
in overtime 105-102
. It was a brilliant game for both squads at times, and sloppy as all get-out at others. 31 turnovers between the two clubs. But still, great intensity, and twice when the Bucks seemed to be down for the count inside of a minute, they pulled back to pressure the club.
The difference?
Rajon Rondo
. An amazing stretch of play for Rondo with the only downside being a missed J to end regulation. Rondo was simply dominating in whipping passes. The Bucks tried hedging hard on pick and rolls, tried doubling, tried closing the baseline, forcing him baseline, bringing the weakside defender, staying home, nothing worked. But it was an emotional moment from,
naturally, Cancer Man
Kevin Garnett
to get them going, as he started a mini-tussle with Bogut before, naturally, walking away when things got heated. Video
via Jose3030
:
And that's really what kick-started the comeback for the Celtics as they surged ahead. But heady, consistent play, getting to the line helped the Bucks claw back into it. The Bucks managed to force overtime, but in the extra period, Rondo took over, getting easy buckets for Pierce and eventually pulling it out after
Carlos Delfino
turned the ball over on the inbounds pass down 3. This after Delfino nailed a monster three from the corner. It was that kind of a night for Delfino.
Pierce becomes the third Celtic to reach 20,000 points alongside John Havlicek and Larry Bird. Not bad company. True company, even.
Boston finished to a 107 efficiency to Milwaukee's 104. Two good defenses being overcome by good offense.