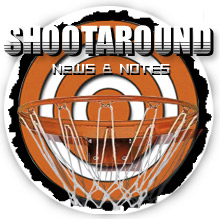 Posted by Royce Young
Kevin Ding of the O.C. Register writes that Byron Scott will one day coach the Lakers: "When you consider just how deeply and openly Scott is tied to the Lakers, not waiting and seeing makes little sense – until you understand that's exactly why he isn't waiting: Scott knows the Lakers so well that he trusts this isn't his only opportunity. And he's right. Scott will still be the Lakers' head coach someday, just not next year."
Matt Moore asked if the Knicks could make the playoffs yesterday and Toney Douglas says he'll be the man to lead them there: "Definitely," Douglas told The NY Post yesterday at Hayground School in Bridgehampton. "I feel like have a lot of talent. We just all have to be on one page and make sure everybody is totally on it. I feel we are a playoff team."
The Grizzlies are trying to let their fans knows they're serious: "The Grizzlies want fans to know that this season -- their 10th in Memphis -- is the one to really believe in. And the franchise is sending the message with a full-court billboard campaign. More than 80 billboards featuring Griz players were unveiled Wednesday in the Mid-South as the team attempts to generate more enthusiasm for the upcoming season."
Andre Iguodala, writing for the Philadelphia Daily News, says he's a little homesick: "(Yesterday) was really the first time I've thought about being away from home as long as I have. The reason is because they have been treating us so well ever since we left. We have a chef from Detroit who makes us some great stuff, we have a Nike suite that we all hang out in after games. All the guys on the team have gotten along really well so it doesn't seem so much like we're so far away from home, it's more like a long road trip in the NBA. There really can be no complaints. In Greece, the food was just OK, but in Spain we found restaurants that we liked and all is cool here."
Ben Polk of A Wolf Among Wolves hits the nail on the head: "Love tends to draw the kind of praise that we've come to understand as racially coded cliches. In the Worlds, Fran Fraschilla (who I should say right out front is a terrific analyst who understands the hell out of international basketball) busted out the full complement: Love is "your perfect teammate," he is "smart" and "hardworking" and "unselfish". These make him sound just like an unathletic, Big Ten white dude and I confess that they are part of the reason that I was a little disappointed when the Wolves picked him up. I mean, weren't you just sick to death of hearing about how great an outlet passer this guy was?"