Landry's La-Z-Boys, Duncan's slim fit, and Ainge's cliff in today's Shootaround.
Posted by Matt Moore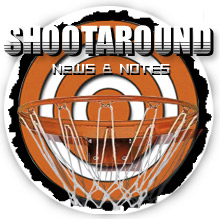 Of all the endorsement opportunities you can get, I don't want Nike. Nor do I want Pepsi or Coke or McDonalds. No, I want the same endorsement op that
Carl Landry
just got.
La-Z-Boy
. Now that's a quality endorsement. I bet he has a La-Z-Boy in each and every room in his house. I wonder if he gets the ones with the cupholders and refrigerators underneath. Are they custom-sized for his frame? So many questions.
There were a lot of questions about the Bobcat's decision to waive Erick Dampier's crazy valuable $13 million expiring non-guaranteed contract. Turns out the
contract is guaranteed if Dampier is injured
, which means the
Bobcats
would be on the hook for the $13 million, and that was a risk they simply couldn't afford to take.
Tim Duncan
is getting up there in years. That impacts his ability to stay on the floor, especially given how many games he's played with playoffs included. But it appears he's reacted that situation by losing some weight, as Greg Popovich told reporters Thursday that
Duncan has shown up for camp slimmer
and faster than in years past, this after showing up last year 15 lbs. lighter. That move could partially be based on the improved depth the
Spurs
have, which means Duncan doesn't have to play the part of traditional big-man center, especially with
Tiago Splitter
on board. It's possible Duncan could be playing more in traditional power forward sets for the Spurs this year.
Jon Scheyer is
going to camp
with the
Jazz
. This concludes your "most appropriate undrafted free agent signing" of the week.
Monta Ellis
wants to make things work
with
Stephen Curry
, and regrets his comments about the rook last year. There's a thought that the two can coexist, but if that's going to happen, someone's going to have to determine a pecking order. And the better Ellis gets, the more complicated that issue comes, and that's before we factor in
David Lee
. Still, it's good to see Ellis recognizes his failure to lead last year.
The
Celtics
opted for the status quo this year
, but they had options. It's a difficult question that Danny Ainge faces, the question of when exactly to pull the plug and begin the move towards the future. That's a cliff no one wants to jump off, which is why so many are shoved off.
Greg Oden
is like
some sort of really powerful
Magic
The Gathering card . I tend to think of him more like one of those really difficult to unlock video game secrets that when you unlock it, really isn't that cool anyway. It's cool, it's just not worth the work you did to get there.
Let's all have a giggle at the idea of
Derrick Favors
starting to begin the season
.
An
image of the Cleveland skyline
will replace the "We Are All Witnesses" banner in Cleveland. That's still going to sting fans that look at it each night.
The jerks in Sacramento
defaced the Casspi mural again
. Sigh.