The top team in the East the past two seasons now finds itself exhuming its fallen squad to determine what went wrong.
Posted by Matt Moore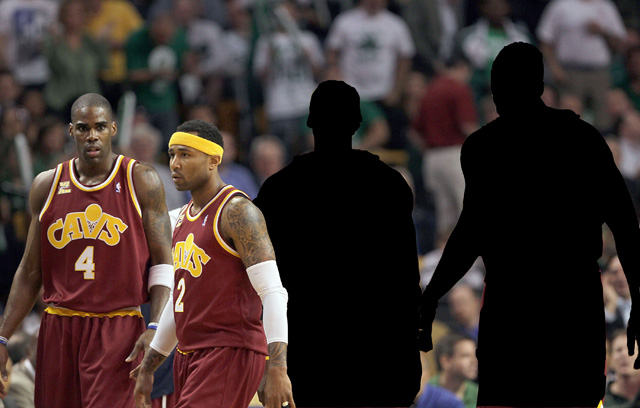 This season for the Cleveland
Cavaliers
is incredibly rare, even as it is inherently depressing for their fans. It's not a contending season like they've experienced the last three years, far from it. It's also not a rebuilding year, struggling through youth and inexperience while lamenting the patience necessary for their team to develop. And it's the polar opposite of a team rising to contention (see: Oklahoma City, 2009-2010). It holds the worst possible future. T+-he firesale. The deconstruction. The undoing. This is the season to watch the top seed in the East the past two seasons burn into ashes.
Oh, there's hope for a playoff run.
Mo Williams
, for all his limitations, is still a viable starting point guard, probably top 15.
Antawn Jamison
may have gotten his clock cleaned by the
Celtics
, but he's still been an All-Star and has a few tricks up his sleeve.
Anderson Varejao
was a defensive player of the year candidate and
J.J. Hickson
is promising in a lot of aspects.
Anthony Parker
and
Jamario Moon
are both legitimate NBA rotation guys and you can do worse than Byron Scott as head coach.
But in the end, their ceiling, their highest aspiration can only be a playoff appearance and a swift dismissal from either the Celtics, or, disgustingly, the
Heat
. That's all they've got. So this season could very quickly turn into a full-on firesale, with Jamison and Williams thrown out for draft picks or expiring contracts. And to hear some former members of the team tell it, it's what's left of this team that has them in this predicament in the first place. Well, one member specifically, with a big mouth. Can you guess who it is?
Shaquille O'Neal
told the New Orleans Times-Picayune
the following tasty quote:
"I like that they play together and nobody really worries about shots, " O'Neal said. "When I was with Cleveland, guys who couldn't even play were worried about shots. Why was Mo (Williams) taking 15 shots, and I'm only taking four? If LeBron takes 20 shots, that's cool."
As
Tom Ziller noted
, this isn't the first time Shaq has detonated the bridge he just left. He's notorious for three things at this point in his career: taking a good long time to get in season's shape, having a big personality, and lobbing verbal grenades at everyone he used to play with. But it's the vocalization of questions a lot of people wondered. There was always a clear separation of LeBron and everyone else (and he was treated as such, from every indication). But from there, there were a lot of rumblings about players wanting to put their own mark on their team, and Mo Williams was the most effusive example. Was he at that level? It was hard to find many who thought so.
But maybe that was just a reaction from that separation with LeBron we talked about. Maybe it was that gap between James and everyone else that caused the team to fail. Dan Gilbert certainly thinks so. In
an interview with the News-Herald
following the extension of new GM Chris Grant, Gilbert said the following about the past few years in Cleveland:
"We weren't as focused on the long term (before James left)," he said. "We'll build the right way. It's absolutely refreshing and challenging and we're all looking forward to building the Cleveland Cavaliers into a premier team.

"We didn't achieve the ultimate goal (with James). It can't be a one-person show. We have to have a team approach and a team effort to make it happen."
As
Kurt Helin noted
, there's good and bad in this approach. Building good team chemistry and working to get a team of young, versatile, athletic players has been proven to work with Portland, Oklahoma City, and potentially Sacramento. But you do need one guy. Portland has
Brandon Roy
. Oklahoma City obviously has
Kevin Durant
. And Sacramento has
Tyreke Evans
. Cleveland will need to find that new player when they do decide to torch the foundation.
And they will, make no question about it. Even if they find success with the core of players they have, it's a mitigated, low-level success that comes with a hefty price tag (the Cavs are on the books for over $51 million this season). In reality, a sub-.500 season would be better for fans. Instead of sitting through a middling season trying to justify keeping the core together, the faster you can detonate the foundation, the sooner you can start bringing in players the fans can get behind.
This season is going to be hard for the Cavaliers. It's less of a story being written as a eulogy. It would take a story of the ages for this to come out well for them. The worst part is that even as James will have been gone for more than three months, the entire year may serve as one long autopsy on a team that died on its way to glory.