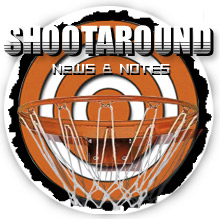 Posted by Matt Moore
The NBA Draft is headed to... New Jersey? The League announced Wednesday that Newark's Prudential Center, home of the Nets this season, will also host the 2011 NBA Draft while Madison Square Garden is being renovated. Considering that many of the top players are unlikely to come out due to the NBA's potential lockout next season, Newark seems like an appropriate choice. Kidding, Newark! We love you!
Pacers coach Jim O'Brien is not really happy with the league's suspension process for drug violations. The team was without Brandon Rush last night when the Spurs wiped them off the map likea coke line at Courtney Love's house in the mid-90's. O'Brien doesn't like the fact that the team isn't notified when a player has his first or second positive test, only being notified when the player is benched. On the one hand, his desire to help his players deal with their problems is admirable. On the other, you have to have some level of privacy for players with these issues (while monotoring the problems). It's a complicated issue, really.
So... Celtics fans aren't all brushing off that loss to the Cavs last night. Yikes. Some aren't as worried . I tend to side with the latter group. It's a road game on a back to back against an emotional team with an emotional crowd and you have a team of hyper-confident veterans that would look past a game like this. Just needs salt for a perfect disaster recipe.