Tom Thibodeau outsmarts Larry Drew (shocker) to help the Bulls take a 3-2 Posted by Matt Moore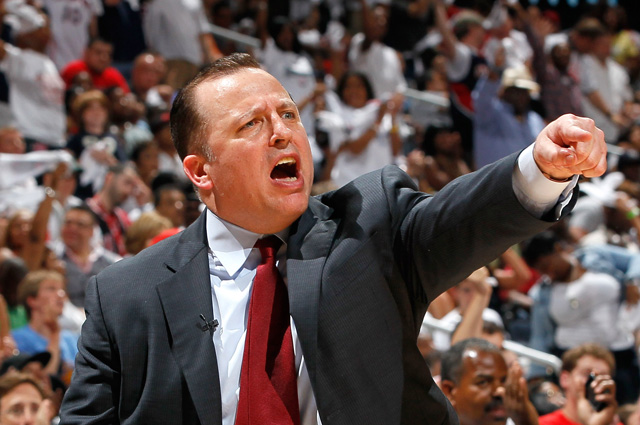 So many coaches shorten their rotations in the playoffs. The thought being "I can only trust the guys I know I can count on. Only the veterans. Only the guys who have played this year." It's painful to the point of absurdity and the downfall of too many coaches. But Tom Thibodeau, sorry, Coach of the Year Tom Thibodeau did not get roped into such a tactic in Game 5 against the
Hawks
.
For most of the playoffs the key bench contributors for the Bulls have been
C.J. Watson
,
Ronnie Brewer
, and
Kyle Korver
. The "Bench Mob" has gotten its fair share of run, but not like they did in Game 5. With
Carlos Boozer
turning in a very Carlos-Boozer-like performance (11 pts, 12 rebounds, 1700 blown defensive assignments, 1800 yells for plays that were largely the product of his point guard's brilliance), Thibodeau turned to
Taj Gibson
and
Omer Asik
, a sophomore and a rookie, to close the game. The result was a burst of energy and defense which shut down the Hawks and gave the Bulls
a 3-2 series lead
and an opportunity to advance to the Eastern Conference Finals in Atlanta Thursday night.
Gibson's impact was immediate and considerable. He established good position inside, caught, pump-faked and went up-and-under on
Josh Smith
, gathered a key offensive rebound, and made all five of his field goal attempts. If Gibson was the spark, Asik was the hammer. Asik made key play after key play, bringing the size and defensive strength to knock the Hawks back out of the paint.
It wasn't a bad performance by Noah and Boozer, it was just smart coaching by Tom Thibodeau to let the unit playing well keep playing well. And it saved what could have been a disastrous performance from the Bulls. It showcases the Bulls' postseason in a nutshell.
The Bulls did not play well for most of the game, and again, a Hawks team that everyone thought would roll over for the top seed in the East put up a great fight, led by
Jeff Teague
.
Derrick Rose
, who had a typically brilliant offensive performance, struggled on defense against Jeff Teague who continues to be an emerging story for the Hawks' future. It's almost as if Rose's All-Defensive Team votes may not have been well considered. But in the end, though less efficient than Teague, Rose outweighed Teague's performance and got the win. The recipe is simple. Give Rose support, any kind of support, from anyone, and the Bulls can win with defense and timely play.
There are so many things that could have led to either team having closed this series out 4-1 in this series were they different. In Game 5, we saw a significant one for both sides: Tom Thibodeau and Larry Drew.