Reactions from around the web to Game 3 of Pacers-Bulls.
Posted by Matt Moore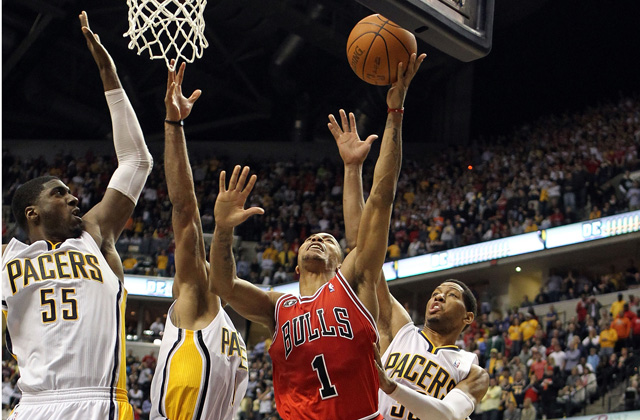 George, for one, believes he can continue to keep Rose in check.

"He got a good estimation of what I can do defensively," said George, who has hit 4-of-18 shots in the series. "It seems like it's in the back of his mind sometimes when he wants to drive. He's not as decisive as he was in Game I, I believe. Hopefully my length will continue to bother him."

Still, Rose had the last word with his game-winning layup, doing what the Pacers have failed to do throughout the series: close out a game.
via
Pacers' George thinks he's bothering Rose - Chicago
Bulls
Blog - ESPN Chicago.
Other than the obnoxious style of this post (yes, let's bring up the shooting percentage of the defensive stopper rookie when talking about defense), the quote's got some umph to it. Rose did struggle tonight. He hit the game winner, because he's awesome and that's what he does, but he also had an absolutely terrible game. 23 points on 18 shots, 5 turnovers. It was the way those turnovers came that were most perplexing. And George is right, here, Rose was less aggressive than he has been in this series. But that's partially due to the fact that the Pacers sent two and sometimes three players at Rose in half-court traps. They, naturally, abandoned that strategy on the final possesion, likely fearing getting Korver'd again. And if I were George, I wouldn't want to speak confidently after Rose destroyed his team in consecutive games, then had a bad game and still wound up sending them into an 0-3 hole. Just doesn't seem smart.
Noting Chicago's history of traveling in large numbers, Pacers coach Frank Vogel asked the fans to support the team, joking that metal detectors would keep Bulls fans out of the building.
via
Rose's late drive lifts Bulls to 3-0 lead on Pacers - NBA - CBSSports.com
.
That's... uh... Coach? Is that what you meant? Because that does not come out right at all. Turns out, her's what Vogel actually said.
"We need to fill the building with blue and gold," said Vogel, who joked that the Pacers have a plan to keep Bulls fans away.

"We're going to have metal detectors out there to scan the metal people are bringing in the building, but people who are wearing red ... they're not going to get through the metal detectors, either."
via
Pacers return home down 0-2 vs Bulls - USATODAY.com
.
So that doesn't sound so bad. That sounds a whole lot different from how it's tabbed in the beginning. Because one is a joke about not letting people wearing red in, and the other is about people wearing red not being allowed in because those people are armed. Which would look really bad, especially for the coach of Indiana. That said, how disheartening is it to have a playoff game in your own building and the arena is split between your fans and the visiting team. That will go away if the Pacers can build on their success. But in terms of tryin to get that advantage that comes with a home playoff game, the energy's got to be sucked out a little bit when Rose is fouled and the crowd cheers.
And I thought this was the first time in a while that Joakim Noah looked like his old self again. The rebounding has been there all-along, but tonight Joakim was a real threat in the half-court set, willing to drive and launch the tornado. And while the Bulls won't get another true ballhandler to help Rose, an active Noah can fill that role admirably for a big man.
via
Slightly different story, but same ending: Defense, physical play, and another close Bulls victory - Blog a Bull
.
It's baffling that Hibbert isn't more aggressive. Hibbert's actually done really well against Noah when he's elected to give the effort in going at him. But instead he takes a step back. And if you take a step back against Joakim Noah, he'll own you, your house, your block, your zipcode and county. Noah's relentless and he's starting to get his legs back under him from injury moment by moment. The stronger he gets, the tougher the Bulls are low. He even hit a mid-range jumper. If he gets back to full strength, the Bulls are a whole other animal because he can cover for Boozer's weaknesses. Speaking of Hibbert...
The starting frontline wasn't as effective, combining for 6-24 shooting for 16 points and 12 rebounds. Roy Hibbert continued to have trouble settling into any kind of rhythm, and Tyler Hansbrough once again had trouble getting his midrange jumper to start falling again. Hansbrough did make some solid plays down the stretch, grabbing 4 of his 5 rebounds on the offensive glass.
via
Chicago Bulls 88, Indiana Pacers 84: Pacers Play Tough Yet Again, But It's Still Not Enough to Avoid 3-0 Hole - Indy Cornrows
.
Hibbert's problem is largely asserting himself into position, and maintaining it. Instead, he'll start a game strong, then totally vanish into the background for the rest of the game. Hibbert can neutralize the Bulls' biggest advantage in this series, or rather, could have, but simply chose to fade. Take the last Pacers possession for example. Hibbert drifted to 16 feet for a spot-up J, instead of attacking the glass for a tip-in. That's the difference in this series. It's not fair to put it all on one player, but in reality, Hibbert could have been the difference maker, and instead was just part of the scenery.
Ultimately, once again, in the midst of what is, and always was, probably an un-winnable series in terms of talent, Game 3 showed shades of what Pacers fans should be excited about in the years to come. The Bulls as a cohesive team are so far beyond where the Pacers are right now that talking about the clutch stuff, the times when good teams loaded with talent truly separate themselves from those middling squads with some guts, isn't all that relevant here.

Derrick did what no one on the Pacer is able to do. Granger isn't capable of that stuff. And everyone else on this roster is so incapable of it that mentioning them by name isn't even necessary.
via
Pacers Drop Game 3 But Validate Playoff Berth
.
They key for the Pacers is that they have a bunch of guys they hope will become that player, but no clear option A. And usually option A.'s are pretty apparent.
Darren Collison
seems like he might be able to, but it would take a pretty big jump.
Danny Granger
is no longer the young, developing raw player he once was. Hibbert we've covered. Tyler Hansbrough? No. So even though the Pacers have a great core, they miss that star player. Ask the
Rockets
how that works out long-term.
Here was a scene from the postgame locker room that captured the essence of a team still fighting through an ungainly adolescence. Roy Hibbert, who just hasn't taken advantage of a good matchup with Joakim Noah in this series, stood in the corner and groused about how he wasn't getting the ball often enough in the low post.

Next to him, veteran Dahntay Jones sat in his chair and, overhearing Hibbert, shook his head.

"He's young,'' he said. "He'll learn. They'll all learn. It's a progression. But we've grown a lot these last few weeks.''

The lesson is, you can't complain about a lack of low-post touches when you shoot a mushy 3-for-12 and take zero free throws. Hibbert is the most likable personality on this team and has shown flashes, but he's got to be tougher if this team is going to break through in the years to come.
via
Close might have to be good enough | The Indianapolis Star | indystar.com
.
Dahntay Jones showed the kind of aggression Hibbert has needed this entire series, and didn't see time until tonight. He was the biggest reason the Pacers took the lead in the second half. You have to wonder why it took Vogel so long to go to a defensive wing with experience when he's been so willing to feed George to the wolves. Meanwhile, Hibbert wanting the ball is great. But he has to be more aggressive when he gets it. That 25 percent from the field is largely due to his hesitation in the post, waitin for help to come and Noah or Thomas to adjust. It can't be that hard for him to score. Dude's 7-2 for crying out loud.
Rose can play better. But he can't close better.

On a 4-for-18 night when his jumpshot wasn't falling, when even his drives were rolling off the rim, he got to the free-throw line. And he made 13 of 15 foul shots.

''Derrick's going to work the game,'' coach Tom Thibodeau said. ''He's not going to get discouraged. He missed some good looks, but you can count on him late. He went into an attack mode. He kept driving. He got to the line. He's a tough competitor. He's going to do whatever we need him to do.''
via
Another strong finish by
Derrick Rose
leaves Pacers frustrated - Chicago Sun-Times.
Rose is eventually going to get worn down taking these hits and going to the rim over and over again. It's happened to every great player. He'll adjust and still be a great player, a transcendent one. But until then, even when Rose has a terrible game, you can count on his ability to get to the line. And if they don't foul him?
Series, blouses.