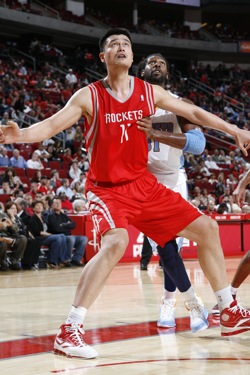 Posted by Royce Young
The
Rockets
have been somewhat of a disappointment this season. As a result, general manager Daryl Morey has constantly been reassuring fans that he and the front office have been furiously working to get the team where it should be.
And according to the Houston Chronicle, they absolutely have been.
His team needs talent, size, defense and rebounding. Carmelo Anthony appears to be at the top of his wish list, and Morey would trade for him without any guarantee of signing him to a long-term contract.

He knows Anthony wants to play for the Knicks, but at this point will take his chances. Morey also has asked about Chris Paul, Josh Smith, DeAndre Jordan, Anderson Varejao and a long list of others.

Everyone on the Rockets' roster is available as the NBA's February 24th trading deadline approaches, but some are more likely to go than others.
That's interesting right there.
Everyone
is available on the Rockets' roster. That means Morey has been saying things like, "OK, how about
Kevin Martin
and
Luis Scola
for Chris Paul?"
And all of this starts adding up with the reports mentioning
Aaron Brooks
' availability. One day, the Rockets were
"trying hard" to move him.
The next,
that was refuted.
Hard to really know, but it sounds like the team is listening to any and all offers.
The Rockets certainly have a good number of pieces that other teams would love to acquire.
Shane Battier
is a perfect veteran to have for a playoff run.
Yao Ming
's contract of course is something a rebuilding team would love to have coming off the books this summer.
Patrick Patterson
and
Chase Budinger
are two young players that teams probably would go after. There assets in the cupboard right now for the Rockets.
Morey has proven he's not shy about making moves. His deal for Kevin Martin last season was an aggressive one. His dealing of
Tracy McGrady
for picks,
Jordan Hill
and
Jared Jeffries
was too as well as the trade that sent
Trevor Ariza
to New Orleans. He's definitely willing to make a deal if it's out there.
The Rockets are four games back of the eight-seed in the West. As they're currently built, they don't look ready to realistically challenge for that spot. So Morey has to decide if he's trying to improve for now, or for later. By the sounds of it, he's keeping his head in the present.