The Celtics thought they were creating a once-in-a-lifetime team. Instead they kickstarted a trend that lead to the team that has them on the verge of extinction: the Miami Heat. Posted by Matt Moore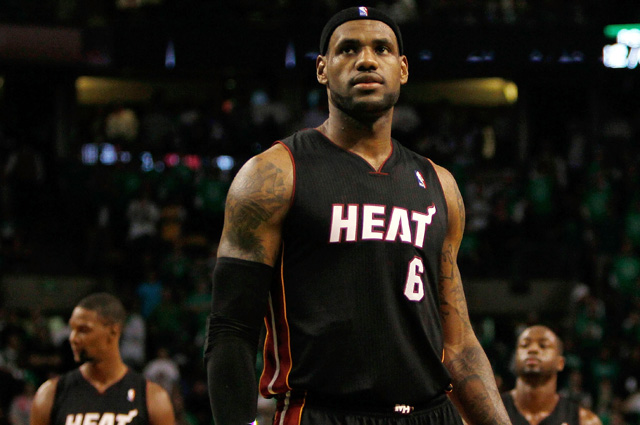 When the Boston Celtics meet the Miami Heat in Miami for a Game 5, down 3-1, it's supposed to singal some sort of changing of the guard. But in reality, it's more of a continuation, the coming full-circle of what the Celtics started four years ago when Boston swooped in and took
Ray Allen
off of a salary-hemmorrhaging Seattle team, then convinced former Celtic Kevin McHale to swap KG for a bucket of suds minus the suds. Boston put out the blueprint for superstar players teaming up, it was just wrapped in lopsided trades instead of free agency. The Celtics may have not celebrated prematurely like the Heat did, and may have managed to dodge the hurt for abandoning franchises through the easy "Hey, they decided to trade me" approach, but the result was the same, and it kick-started a trend in the NBA. Los Angeles responded by acquiring
Pau Gasol
for peanuts (which were planted and grew into
Marc Gasol
). The
Mavericks
in turn acquired
Jason Kidd
. Teams started clearing salary at an exponential rate trying to make room for the summer of 2012, and in the aftermath we got New York with Amar'e and Melo, Chicago with Rose joined by Boozer, and of course the Triad in Miami.
Don't think the classy Celtics could have anything to do with Miami and their brazen ways? Just ask the Heat where they got the idea.
"They set the blueprint for us when they decided to make the trade for [Kevin Garnett] and for Ray [Allen]," James said. "Seeing guys make sacrifices to come together and play as one. They set the blueprint and went out there and did it. They won a championship. They competed every year."

"With LeBron losing to Boston in Cleveland in the playoffs, he felt like, 'I gotta do more, I need to be around more to contend for a championship,' " Wade said. "Me feeling the same way going into the summer, saying that I needed more, it was because of Boston. They knocked us out."
via
2011 NBA playoffs:
LeBron James
,
Dwyane Wade
say Boston Celtics inspired us to join forces with Miami Heat - ESPN.
It's always felt more like Boston sacrificed more than the Heat did. Something about Ubuntu and the defensive identity of the Celtics convinced us that they were truly selfless while Bosh, James, and Wade were merely being selfish together, however that's supposed to work. But the reality is the Heat did sacrifice. They've become a monstrous defensive squad, reliant more on athleticism and ability rather than experience and know-how. They could have blown up on one another during the hard times this season, of which there were many, pointed fingers and come apart. But though we tried to make their words into more, even claiming an inadvertent shoulder bump going into a timeout was some sort of indicator of discord with the coach, the Heat have stuck to the plan. And now they're a home win away from advancing to the Eastern Conference Finals and vanquishing the team that both set the blueprint for their connection, and plauged them throughout the regular season.
The Celtics set the standard for this new era. They created this monster, despite thinking no one could duplicate their approach. Now they're on the edge and have to figure out a way to make sure the next model doesn't destroy the prototype. Perhaps even more disturbing for the Celtics is this. A loss makes the possibility that their core will only wind up with one title very strong, signifying a near, if not certain, end to their era of contention and dominance with only one title. The Heat meanwhile would advance with a chance to match the Celtics' championship chalkboard marks, in only their first year.
The Celtics are wrapping up, the Heat are just getting started. It's like the circle of life, only this time it's the lions getting eaten.