Forward Troy Murphy returns from injury to make his debut for the New Jersey Nets. Posted by Ben Golliver.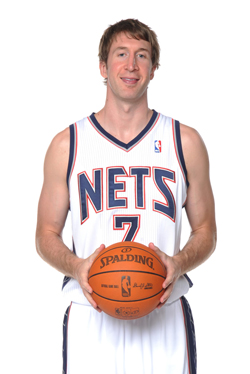 Nets veteran power forward Troy Murphy, acquired in a summer trade with the Indiana
Pacers
, finally played his first game for New Jersey Wednesday night, after
dealing with a back injury throughout the preseason
.
The Star-Ledger reports
that the season debut wasn't anything to write home about for Murphy, who is originally from the Garden State.
Murphy, a Sparta native and Delbarton School graduate, played 18 minutes in the game, 12 in the first half, and finished with two points, on 1-of-3 shooting. He also had two rebounds, a blocked shot and two personal fouls in his first game since coming home to the Nets from Indiana in a four-team trade which sent Courtney Lee to Houston.
"I felt okay," Murphy said. "It was great to be out there."
He said his conditioning was okay, but his timing was off from not having played with his Nets teammates. [Nets coach Avery] Johnson said he will continue to limit Murphy's minutes until he gets into better game shape.
The big question facing Johnson involves how to work Murphy, a versatile scorer who is accustomed to big minutes and lots of touches, back into his lineup without infringing upon the development of rookie power forward
Derrick Favors
, who was impressive in Murphy's absence. Favors, the Nets' first round draft pick who went one-and-done out of Georgia Tech, was widely regarded as a project entering this season because of his youth. Yet, through his first four NBA games Favors is averaging 10.5 points and 9.5 rebounds in 22 minutes a game, astounding per-minute production.
ESPN.com reports
that Johnson is making Favors' development his top priority.
Regardless of whether it happens against Charlotte or not, Johnson made it clear that Murphy's return will not cut into Derrick Favors' playing time. "This whole year is about Favors growing as an NBA player. So his minutes won't be affected," Johnson said.
Given that Murphy is in the final year of his contract and Favors is the future, it's a no-brainer.