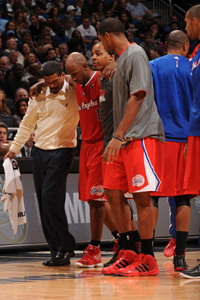 Chauncey Billups was one of several players to go down with injuries Monday.
(Getty Images)
By Matt Moore
If there was a tipping point for when the compacted schedule would really start to take a significant toll on the league through injury, you have to wonder if it was Monday night. Here's a rundown of the M*A*S*H* unit the league turned into Monday night in a torrent of injuries.
The Hornets announced Jason Smith is out one week with a concussion he sustained Saturday against the Pistons.
That's one night of action and we haven't even gotten the random trickle-down injuries from the late games yet. Usually we'd be about a week away from the All-Star Game but since we haven't actually gotten through that many games due to the late start following the lockout, there's another three weeks before the All-Star break provides some relief.
Vince Carter
said last week that this year was about survival and you can tell how much that has an impact on teams' approaches. It's just a rough year for all teams in terms of managing wear and tear with this schedule, and Monday night was one in which a lot of teams lost that battle.