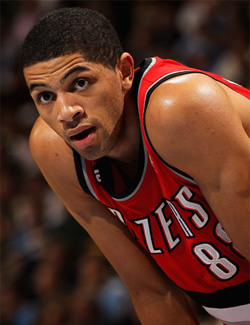 Report: Nuggets angling for Nicolas Batum in the event Melo is traded as part of rebuilding effort.
Posted by Matt Moore
According
to a report we mentioned earlier
, the Denver Nuggets' angle in all this Carmelo-Anthony-trade in-and-out talk is to create a combination of Nicolas Batum and
Derrick Favors
. Following up on something Ken Berger of CBSSports.com reported last week,
ESPN reports that Batum is a top target
for Masai Ujiri and the Nuggets. Several teams have inquired of Batum's availability, but the Nuggets would have a good chance at him, provided they can get this never-ending deal with New Jersey done.
Basically, it goes down like this. Denver trades Melo in the whole complicated three-way to New Jersey for Favors,
Devin Harris
, and picks. Since Denver already has
Ty Lawson
, whom they love with all their little hearts, they then trade Harris to the Blazers who have been trying to find a young guard upgrade over
Andre Miller
for the past century. They send Harris and a pick in order to get Batum. Then the Nuggets have their pick, a
Nets
future pick, Nicolas Batum, and Derrick Favors along with Ty Lawson and a bunch of older, often-injured bigs, but that too is solvable (starting with
Kenyon Martin
's huge expiring contract).
With Batum the Nuggets would get a young, talented versatility player who can shoot from the outside, has a lot of athleticism, and most importantly, is a natural defender. Those are exceptionally rare in this league. Alongside Lawson with Favors low, the Nuggets would have a young core to build around.
The question is whether Denver will actually ever pull the trigger on the first deal with New Jersey to facilitate a trade with Portland. So far, Denver's shown nothing but a penchant for watching the pitches pass them by.