Report indicates Nuggets asked Knicks for four of top six players including Raymond Felton, Wilson Chandler, and Gallinari.
Posted by Matt Moore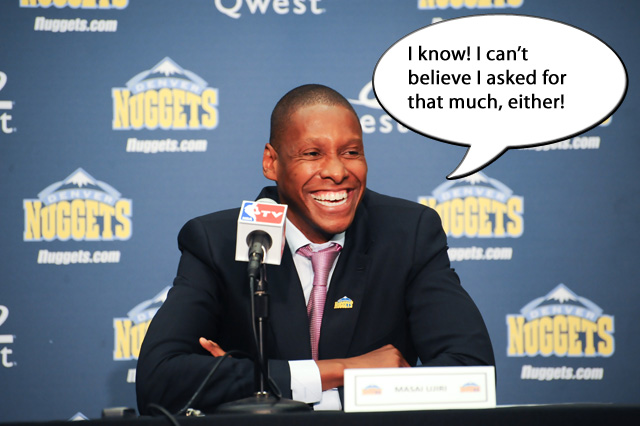 Photo via Getty Images, illustration via Eye on Basketball. Laughs out loud via Masai Ujiri.
Basically, the next things Masai Ujiri's going to ask for are the fillings out of Donnie Walsh's teeth and Mike D'Antoni's mustache. That's pretty much all that's left for them to ask in exchange for Melo if a report out of
New York Times
is accurate. From the
Times
:
According to a Knicks official, Denver wants Raymond Felton, Landry Fields, Wilson Chandler and Danilo Gallinari — four of their top six players — for Carmelo Anthony and an aging Chauncey Billups. The Nuggets have also asked about Timofey Mozgov.
via
Knicks Making Progress. Will They Make a Deal? - NYTimes.com
.
Oh, and the
New York Post reports
that first-rounder via the
Timberwolves
for
Anthony Randolph
is a requisite, too. Next on the list are "all the tea in China," "Fort Knox," "a pet Chupacabra" and "the top floor of the Empire State Building." This is an absurd asking price, even as a starter, even for an All-Star starter. The Nuggets apparently think that Carmelo Anthony can play every position on the floor except point guard and power forward. The Knicks would never surrender Gallinari and Fields in any scenario, not when one is a high-upside, high-percentage perimeter threat and the other is in the top five for Rookie of the Year. Raymond Felton is even a stretch, even if they were getting Chauncey Billups back in the deal. This isn't just too much. It's what happens when you ask for too much, then decide to throw in some extra wishes on top.
This is pretty much the model of what Masai Ujiri has done in these negotiations. Ask for too much, from a position of weakness, then ask for more. We're fairly certain if the Knicks had somehow, someway agreed to that deal, Ujiri would have then asked for the Rockettes.
As Ken Berger reported Wednesday, Knicks GM Donnie Walsh
won't be freaking out over these talks
. If Denver wants to continue throwing out ridiculous price tags in an effort to get a steal right up until the last minute, he's content to let them stimmer in their own absurd demands. The Knicks stomped the fourth-seeded
Hawks
last night to get a much needed win, will be making the playoffs regardless, and the future is bright with or without Melo. The fact that Denver is desperate enough to be trying to get what amounts to one of the most ridiculous deals this side of the
Pau Gasol
trade actually only further puts into relief how much they're flirting with disaster here.
Even if they've moved towards a reasonable compromise from this starting position, you have to wonder just who it is that Masai Ujiri thinks he's got here. Melo is a top talent. An All-Star. But no rings, little defense, and not a legend.
But apparently he's got a legend's asking price.
No one's giving up that much for Carmelo Anthony, except Isiah Thomas. And he's not calling the shots.
Yet
.