Video of the 2011 Larry O'Brien trophy after the Dallas Mavericks won the 2011 NBA Finals, beating the Miami Heat, 4-2. Posted by Ben Golliver.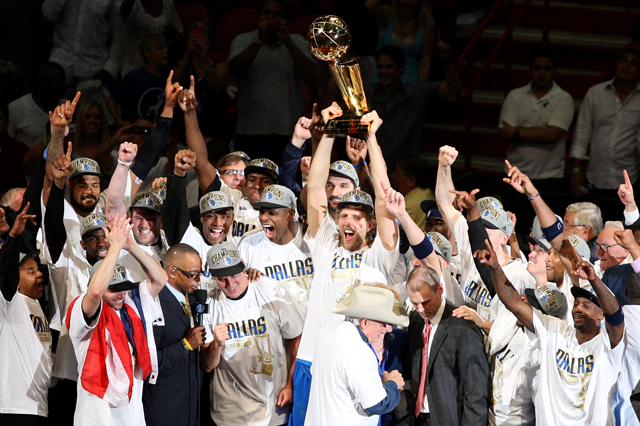 The Dallas
Mavericks
are your 2011 NBA champions.
NBA commissioner David Stern presented the Larry O'Brien trophy to the Mavericks following their 105-95 victory in Game 6 of the 2011 NBA Finals against the Miami
Heat
. Mavericks owner Mark Cuban requested that Stern present the trophy to the original owner of the Mavericks, Donald Carter and his wife, Linda Jo.
Cuban then took the trophy, clutching it with one hand, before passing it on All-Star forward
Dirk Nowitzki
, who held it high above his head with both hands. It marks the first title in franchise history and the first of Nowitzki's career.
"You know what, it doesn't mean as much to me," Cuban said. "I just feel so good for Dirk,
Jason Kidd
,
Jason Terry
,
Shawn Marion
. The whole world was telling us we were the one-and-done boys, that we were going to get knocked out in the first round. This team has so much heart, so much determination and so much fortitude that you know what, I love every one of them. And let me just tell you, our fans that came down here to Miami. You guys rock, we heard you guys."
Cuban was then asked why he has maintained silence throughout the last few weeks despite being one of the league's most outspoken owners. Cuban refused to answer the question.

"It doesn't matter," Cuban said. "Where's Dirk, where's Jet? Rick, why don't you talk?"

He then signaled for Mavericks coach Rick Carlisle to step up to the microphone.

Nowitzki was named MVP of the 2011 NBA Finals MVP.
Here's video of the Dallas Mavericks trophy presentation.