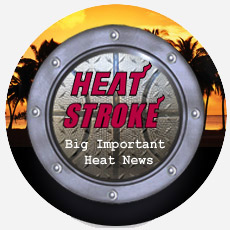 Posted by Royce Young
To sit courtside, to be specific.
According to TMZ,
a StubHub representative confirmed that someone purchased a pair of tickets at $12,942 each. That's like, a lot of money. For a comparison, the most anyone paid for courtside tickets last season was $2,250 each. And that was against the
Lakers
.
Everyone is kind of freaking out over the fact that the
Heat
haven't sold out their home opener against the
Magic
. The reality is, there are a couple hundred seats left that will most definitely get scooped up. I don't think people have to worry about the demand to see this group. Some casual fans may be still deciding if they want to head to the arena for the game tonight, but you can count on the Heat selling all 19,600 tickets they have available for tonight.
The face value for a courtside seat at a Heat game is about $450 per ticket. So at $12,942, that's a 2,776 percent increase over face value. Somebody is pocketing about $12,500 per ticket if they bought them at face. That's INSANE.
For comparison, probably the biggest Super Bowl ever, a matchup of the New York Giants and the undefeated New England Patriots in 2008 saw a high ticket price on StubHub of $19,446. But that doesn't mean that ticket was sold. That was just the asking price. A prime ticket to this year's World Series Game 3 between the Giants and Rangers in Texas is being sold at the top dollar amount of $8,500.
And yet the home opener for the Miami Heat, one of 41, has a pair of tickets SOLD for nearly $13,000 each. We keep telling you people want to see this team. And
some
people REALLY want to see this team.