Lakers, Celtics dealing with emotional upheaval in the midst of biggest playoff challenge outside of Finals.

Posted by Matt Moore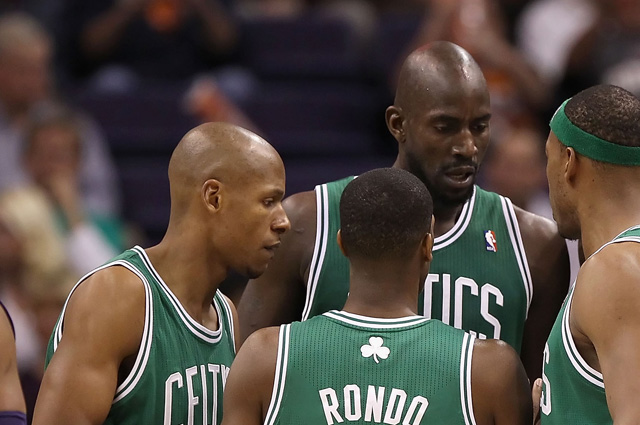 You'd think that being the older, more experienced teams would grant them some perspective on the ups and downs of the NBA playoffs. You'd think having walked through the fires of the championship forge would grant them a solidarity. You would think that all the talk of chemistry and how much the team members like one another wouldn't be affected by a few losses or some bouts of poor play.
You'd be wrong.
Wednesday night, the Lakers were dealing with what
Andrew Bynum
referred to as "trust issues."
This from a team that won the title eleven months ago. What, did the reality show really change Lamar all of a sudden? Is he just not the down-to-earth player he was when he was younger, as in, 12 months before? Maybe
Pau Gasol
's let the bright lights of Los Angeles change him from his small town ways. You know, Barcelona, Spain being such a quaint little village. Regardless, apparently it's an epidemic of championship-caliber teams needing some therapy and special quality time.
From the Boston Herald:
The effect can be so disruptive, Doc Rivers even has a name for those times when squabbling and finger pointing mar one of his timeouts.
"Emotional highjacks," the Celtics [team stats] coach said after yesterday's practice. "And they always happen when you're down or in the Heat of battle. It always happens, but once you let it get to a point where it highjacks your team, then it's never good. But it's part of the game, in every sport and on every team."
The Celtics, though, looked as if they had been boarded and highjacked by Captain Jack Sparrow's entire crew during several timeouts on Tuesday night.In perhaps the most blatant instance, Rajon Rondo [stats] stormed away from Paul Pierce [stats] as the Celtics captain attempted to make a point at the end of a timeout. Not long after, Pierce, Kevin Garnett and Ray Allen appeared to be holding their own conference outside the greater team huddle.
via
For Celtics, outbursts no shock - BostonHerald.com
.
Ray Allen told the Herald that it's nothing new for the team, that they've always argued and "debated" more than any other team he'd been on. But it certainly comes off differently when the team is down 0-2 and looks largely helpless to counter the talent in the red and white unis.
Emotion is a good thing. But bickering and squabbling isn't going to help a team that has a heavily rumored fracture in its chemistry since "the trade" to get itself back together. The Celtics have always fed off their emotion, but right now it needs to be aimed at increasing their intensity and intimidating the Heat, not punishing one another over pointless arguments. There's a thin line between fiery and disruptive, and the Celtics are dancing all over it right now.
(HT:
Red's Army
)