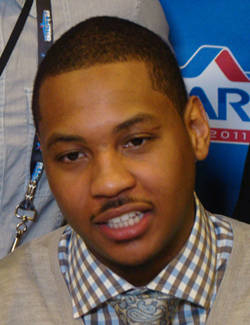 Nets owner releases statement he will not meet with Carmelo Anthony as report surfaces Anthony has yet again informed those close to him he will not sign an extension to play for New Jersey.
Posted by Matt Moore
Update 8:10 p.m.:
The
New York Daily News is reporting
that Melo will meet with Prokhorov tonight. Of course they are.
Yahoo!
confirms the report. Of course they do. Melo and Prokhorov have been lying through their teeth about these meetings all weekend, so this doesn't come as a shock. But Melo's consistently been reported to be very reticent about joining the Nets. If Prokhorov has his audience, he's got one shot to salvage this thing.
It certainly looks like the Russian got played. Again. Significant developments occurred Saturday to indicate that the Nets'
revived efforts to trade
for Carmelo Anthony are either dead, or dying. Nets owner Mikhail Prokhorov released a statement through his spokesperson Saturday afternoon saying:
Mikhail has not met with and has no plans to meet with Carmelo Anthony. He is looking forward to enjoying All Star Weekend. We will have nothing else to add on this.
via
The Bergen Record: In the 'Zzone
.
Anthony confirmed to NBA FanHouse
that he had no plans to meet with Prokhorov, either.
This is then followed by a report from the
New York Times
that Anthony has, once again,
reasserted that he will not sign an extension
in the event of a trade to the New Jersey Nets, effectively eliminating them from the race, if accurate. This has been
Anthony's position for a while
as CBSSports.com's Ken Berger has reported. And by "fora while", I mean "since September." Throughout multiple efforts by the Nets to acquire Anthony, each time he has backed away from the idea of signing the extension with the Nets. And each time the Nets have come crawling back through the door, even after Prokhorov said he was done the first time.
So the
Times
reports Anthony won't sign the extension, and in the same time frame Prokhorov releases a statement saying he has not met and will not meet with Anthony. That's the sound of damage control.
Honestly, Prokhorov should never have OK'd anyone from the Nets to get involved again. From the beginning there was talk that the
Nuggets
were using the Nets to apply pressure on the
Knicks
to beef up their offer, a plan w
hich seems to have worked
. The Nets swallowed their pride in the hopes of getting the superstar they've covete, and instead have wound up as nothing more than a pawn for the Nuggets to extract more assets from the Knicks, when the Knicks know they maintain leverage. The Nets now look weak from multiple angles, as a franchise free agents don't want to play for, as a front office easily manipulated, and a team desperate to gut its roster for a star who at the very least is signficantly reticent to join them. Having secret meetings while denying any involvement doesn't really work if everyone and the world knows that Jay-Z is in town and looking to meet with Prokhorov and Anthony. Even if the Nets do land Melo, it's been a bungled approach from the start, and that's before you consider they've essentially offered all the tea in China for him to the Nuggets. And even that hasn't achieved their goal.
Then again, every report that comes out contradicts the one before it, so Anthony could be a Net by sundown and I wouldn't be surprised. The Knicks'
latest offer includes
Danilo Gallinari
,
Wilson Chandler
,
Raymond Felton
, and a first round draft pick via Minnesota (in exchange for
Anthony Randolph
).