Coach Doc Rivers says he plans to return in 2011-2012 to coach Celtics, despite elimination by Heat and a possible end of an era. Posted by Matt Moore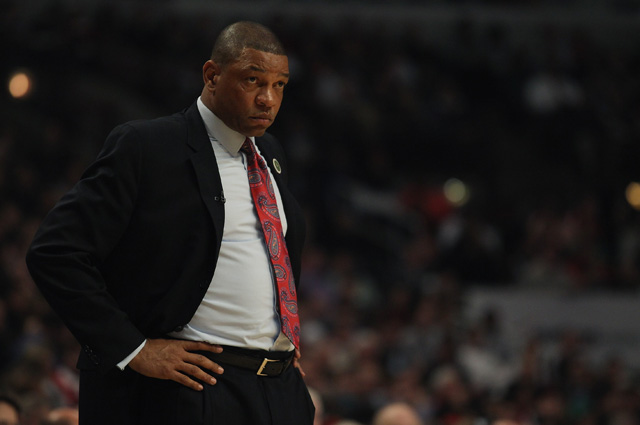 Update 11:05 p.m.:
Ken Berger spoke with Rivers before the game about his decision and talks more
with the Celtics' coach and where his career his headed.
Just minutes after what was likely the end of the Celtics' season, where they were vanquished by the younger, faster, hungrier team in just five games, head coach Doc Rivers told reporters, including
CBSSports.com's Ken Berger:
"I'm leaning heavily toward coming back. I can tell you I probably will. I've kind of come to that over the last couple of weeks. You know, I'm a Celtic...I want to win here again. ... I don't think this team is done."
Rivers had to be convinced to return this season by his family and the Celtics, and his son is a freshman for Duke next year (and a strong lottery prospect). Rivers may be speaking from emotion, but given how tough this Celtics team's end was, and how close they are, it's conceivable that Rivers means it and will return. The question will be whether he should.
Shaq won't be back, neither will
Jermaine O'Neal
. Those aren't huge pieces. But with the Big 3 getting another year older, and possibly losing half the season to a lockout, plus having to try and replace
Delonte West
and
Glen Davis
who will both likely depart in free agency, there's a lot of changes coming to the Celtics. Eventually the age catches up and makes it impossible for the system to hold. This wasn't just a series win, it was an emphatic one. Rondo's injury, sure, that's a huge turning point. But the overriding theme of this series was the Celtics being overrun by the Heat's talent, youth, and athleticism in the Triad.
But even after last year's doubt, Rivers has come to the conclusion as he said, "He's a Celtic." Sometimes even if the situation isn't right, you have to stick with your guys. Rivers looks like he intends to stick with his.