Tom Thibodeau thinks Derrick Rose isn't getting the calls he should in the Eastern Conference Finals. Thibodeau has bigger problems.Posted by Matt Moore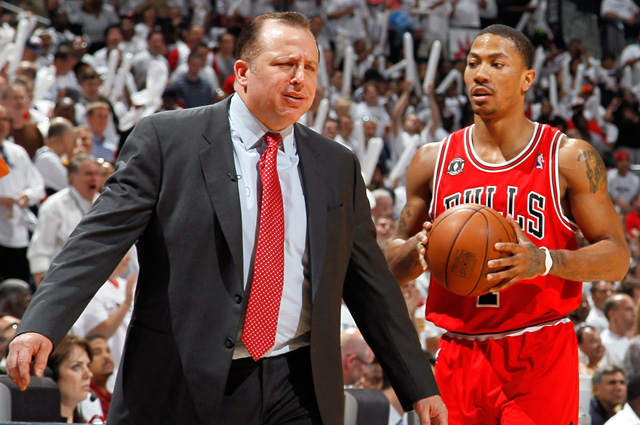 From Larry Brown Sports, we discover Tom Thibodeau's reason for why Derrick Rose is struggling in the Eastern Conference Finals.
Bulls coach Tom Thibodeau must have kept that in mind, because he made a point to call out the refs following his team's Game 4 loss in Miami.

Speaking about Derrick Rose after the game, Thibodeau said "He hasn't been able to get to the line like we thought he would. There's a lot of contact, and he hasn't gotten calls."
via
Tom Thibodeau Calls Out Refs for Not Giving Derrick Rose More Calls | Larry Brown Sports
.
On the one hand, the
Heat
had a 38-22 advantage in free throws in Game 4, and Derrick Rose took seven to
LeBron James
' 13. On the other hand, here's a brief list of ways why maybe Coach needs to look elsewhere for answers besides blaming the officials.
Rose was 8-27 from the field, or to put it in a different context, Rose missed more than two of every three shots he took. He was 1-9 from the 3-point line. Why did he take four more after starting 0-5 you might ask. Well, that would be something his coach might have something to say about. That's nine possessions where Rose won't be getting to the line.
The Bulls, a terrible 3-point shooting team, knowing this going in, took 24 3-point attempts in Game 4. That's 28 percent of their total FGA predicated on the arc. The Heat, conversely, took 13, for just 17 percent. The Heat shot 39 percent, the Bulls 24 percent. So even though the Bulls are a terrible perimeter-shooting team and needed to create free throws, they went to 3-point shooting to save them.
Derrick Rose got a few calls, including a ridiculous continuation on one of his poster dunks. It's not like Rose was constantly knocked to the ground, he just didn't drive as much.
Instead, Rose habitually went to the pull-up jumper, like he did on the final possession of regulation. When he did drive, late, he turned the ball over. Hard to draw free throws when you're rolling the ball out of bounds.
The Heat's defense has done three things on Rose in this series. Send multiple defenders to keep him from being able to figure out a consistent attack, bring help at three, sometimes four levels on Rose's drives, and guard him with players like James who have incredible size advantages. The key for the Bulls should be to punish those positional switches by having the other players matched up on smaller/slower players get involved, or working with Rose off-ball. But of course, those would be offensive adjustments and Thibodeau is too busy screaming at the defense to not let a 6-8, 285 lb. freight train with unparalleled explosion drive by them or hit fadeaway 16-footers. Much too busy.
The reality is that there were calls that didn't go the Bulls way in Game 4, and the whistles were generous towards Miami. But Rose not only had the game winner he missed, but a key free throw clanged off in the final minutes and multiple turnovers. Rose is 22. He'll bounce back. This is part of the learning process. He's still the MVP after a banner year.
But the Bulls aren't losing this series 3-1 because of the officials. They're losing it for multiple reasons, and one of them is that Derrick Rose just hasn't been any good and his coach hasn't helped him to make any adjustments.