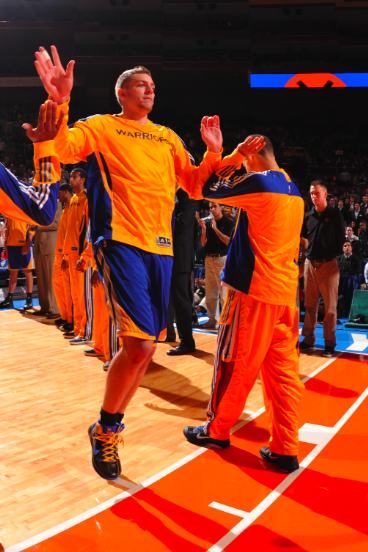 Posted by Royce Young
It took a little longer than expected, but finally, officially, the Chris Cohan era is over in Golden State. The NBA's owners unanimously approved the sale to Joe Lacob and his group that includes managing partner Peter Guber.
Guber tweeted earlier today that the sale was done.
It's almost like the new era has even begun for the
Warriors
before the sale was actually finalized too. Golden State loosk re-energized, starting 6-3 on the year, one of the team's best starts in over a decade.
Lacob purchased the team with business partner Peter Guber back in mid-July for a reported $450 million. And since taking over (sort of), Lacob has moved quickly trying to restructure the future of the team. He's done numerous interviews trying to lay out a new vision and his influence is likely what helped push Don Nelson out the door and bring Keith Smart in. Lacob was also consulted on the
David Lee
move as well as the deal that signed
Jeremy Lin
.
The new owners aren't entirely new to the team ownership game. Lacob bought a share of the
Celtics
in 2006 and Guber's Mandalay Entertainment owns and operates multiple minor league baseball teams, including two affiliates of the New York Yankees.
Cohan has owned the team for 16 years and in that time has seen the Warriors appear only once in the postseason (2007). Cohan's purchase price was somewhere in the $120 million range.
Under Cohan, the Warriors have yielded the second worst record in that span, second to only the Clippers .

It's a good day for Warrior fans to now move past a former ownership that didn't seem as concerned with winning as the new group does. There's really no reason the Warriors shouldn't be better. And now with Cohan out and new owners in, maybe things will turn around.
They're definitely already off to a pretty good start.