Posted by
Ben Golliver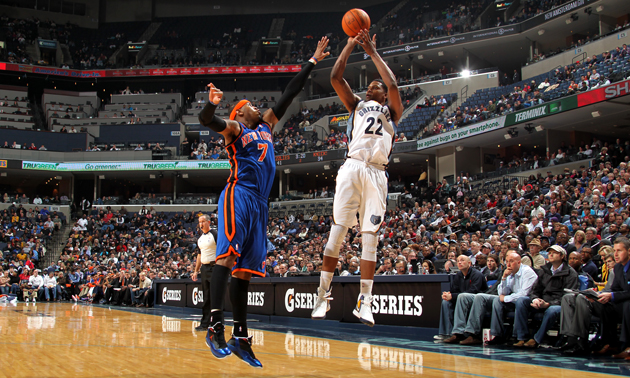 Your nightly report card gives you a big picture look at what happened each night in the NBA. Grades are granted based on team or individual performances, and are graded on a curve for each element. Leave your own grades in the comments.

The Memphis Grizzlies have had a turbulent start to their season, losing franchise forward
Zach Randolph
to injury and shaking up their roster in an attempt to compensate for the loss. Their 4-6 record indicates there have been plenty of struggles but they put on a pretty face for a national television audience on Thursday, drop-kicking the
Knicks
and leaving no doubt in a 94-83 victory.
Rudy Gay
led the way with 26 points on 16 shots, and while Memphis didn't shoot the lights out they scored at will when they needed to. Given New York's effort level recently, scrappers like
Tony Allen
(12 points, 5 rebounds, 5 steals) and
Marc Gasol
(10 points, 12 rebounds, 5 assists, 4 blocks) were free to have a field day.

The NBA's best kept secret keeps cranking out hits. If hype was dispensed purely on merit, Irving would eclipse Minnesota
Timberwolves
point guard
Ricky Rubio
easily. Instead, he toils away for a forgotten Cleveland
Cavaliers
team that just happens to be at .500 after the first ten games of the season. He's been called mature, efficient and intellignet, but on Thursday he showed he was fearless, too, taking the game to
Steve Nash
in Phoenix to finish with 26 pointes, 6 assists and 2 steals. His 11-17 shooting helped compensate for the 6 turnovers. Irving is currently off to the best start of any rookie point guard in recent memory.

After complaining in Portland on Wednesday that he couldn't find an offensive rhythm this season, Dwight Howard destroyed Golden State's thin front line to the tune of 45 points and 23 rebounds. Howard made it to the free throw line an astonishing 39 times,
smashing a 49-year-old NBA record
, and added 1 blocks and 4 steals to his absurd stat line. Orlando didn't play nearly as crisply against the
Warriors
as they did in beating the Blazers the night before, but Howard's monster night ensured Orlando earned its third straight win to start a 4-game road trip, 117-109.

Jon Leuer? More like Jon Who-er? Am I right? Milwaukee's 22-year-old rookie forward has hit for double figures in three straight games for the
Bucks
, capped by a career-high 15 points in a 102-93 win over the Detroit
Pistons
. No basket was bigger than a late dunk in traffic that helped seal the win. Milwaukee didn't draw many fans on Thursday, but those who were there were on their feet to salute his all-around play. Leuer finished with 6 rebounds, 5 assists and 2 blocks. Call this a hearty B+.

He gets docked from an "A" only because it came in a losing effort (Detroit's sixth straight loss), but second-year Pistons center Greg Monroe had arguably the best individual performance of his career, tossing in a career-high 32 points and adding 16 rebounds. Detroit has such an oddly-assembled lineup that it's difficult to know who will be around in a few years if this team ever gets headed back on an upward trajectory, but Monroe's development sticks out as one clear positive indicator. Thursday marked his fourth double-double in 11 games so far this season.

Diaw is an easy target, in no small part because he's so big you can't miss him. The
Bobcats
got drilled by the Atlanta
Hawks
, 111-81, in the first game that Atlanta played without key big man
Al Horford
. Hawks coach Larry Drew inserted
Zaza Pachulia
into his starting lineup and played his starters heavy minutes. Diaw might as well not have shown up, finishing with zero points and 6 rebounds, all defensive, in 26 minutes.
New York Knicks

Name a way the Knicks can fail and you saw it on Thursday against the Grizzlies.
Carmelo Anthony
was lost to injury.
Amar'e Stoudemire
never bothered to show up. New York got beaten badly on the boards and couldn't stop Memphis' offense from pouring it on. Rookie point guard
Iman Shumpert
took 20 shots and his back-up,
Toney Douglas
, took 13. Combined the two guards shot an atrocious 8-for-33 and tallied 7 assists to 9 turnovers. Thanks to some garbage-time lead-cutting this one wound up as an 11-point loss but it played out more like a 25-point blowout.