Lakers overcome tough contest by Rockets thanks to Shannon Brown as Kobe struggles from the field.
Posted by Matt Moore

The Rockets worked hard. They hustled. They shot well. They drove, and dished. They gave up offensive boards, but they worked on defense. They forced
Kobe Bryant
into a hard night. They gave everything they had for three quarters.
And it only took one quarter for the Lakers to show why they're the champs. After the Rockets led by as many as 15 in the second half, the Lakers made a furious comeback behind an explosive performance from Shannon Brown, then iced it with a
Steve Blake
three with less than twenty seconds to go. Brown went ballistic in the third with a barrage of threes and finished with 16 points. With one last possesion and less than ten seconds, Steve Blake made a terrific defensive stop on
Aaron Brooks
under the basket and the Lakers walked out with a 112-110 win.
Take a look at Shannon Brown's
shot chart from our CBSSports.com GameTracker
: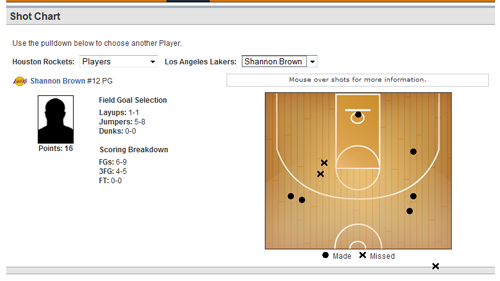 The Rockets had solid performances from
Kevin Martin
in the loss, with 26 points. Aaron Brooks, outside of that last possession, was also brilliant with 24 points and 9 assists. The key for the Rockets? Turnovers. 19 turnovers to LA's 11.
Yao Ming
was held to his 24-minute limit, fouling out in the 24th minute, exactly. That's one way to get the most for your minutes. Yao was great early, fighting off
Pau Gasol
and grabbing rebounds, but
Lamar Odom
decided to show for LA, and when that happens, they're impossible to stop. 14 points, 10 rebounds for the Space Cadet, and a
112-110 win
for the Lakers.
Kobe Bryant was 8 of 20 from the field for 27 points, but did have 5 rebounds and 7 assists. More on #24 in tomorrow's GameChanger.