Posted by Ben Golliver.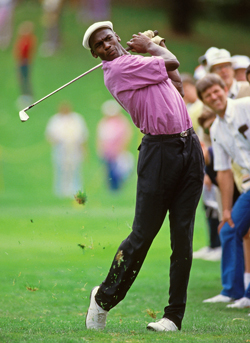 The ongoing NBA lockout continues to cramp Michael Jordan's style.
The Greatest Basketball Player Of All Time and Charlotte
Bobcats
owner has decided to skip the President's Cup golf tournament in Australia because the NBA and the National Basketball Players Association have yet to reach a deal on a new collective bargaining agreement.
The Los Angeles Times reports
that Jordan was set to be an "assistant captain" for the United States team that will be competing later this month.
Jordan, the Charlotte Bobcats majority owner, was slated to be an assistant captain for the U.S. team at Royal Melbourne in Australia from Nov. 17-20. But he announced earlier this week he is stepping down from that role, citing the lockout as his reason.


"With the NBA labor situation unsettled, as the majority owner of the Charlotte Bobcats, I feel it is necessary that I remain in the country," Jordan said in a statement.
The President's Cup is a tournament that pits American golfers against non-American, non-European golfers at rotating venues around the globe.
This isn't the first time that the ongoing NBA lockout has impeded Jordan's enjoyment of the links.
Back in July
, the NBA warned Jordan not to compete in the same foursome with current NBA players at a charity golf tournament in Lake Tahoe, lest he be subject to a fine for violating the league's gag order, which prohibits contact between team executives and players.
Is Jordan's presence in the United States absolutely necessary for his organization and the negotiations as a whole? Of course not. This is simply about appeareances. It doesn't look that great if your game's most recognizable and popular personage skips out of the country to enjoy a relaxing, stress-free, international golf outing while the rest of his fellow owners continue to glare across the boardroom at the current players, refusing to yield in their collective positions and forcing the fans to sit around on their hands waiting for the season to finally start.
That's a bad look. Jordan's presence in Australia would open up himself, his organization and his fellow owners to all sorts of criticism. Plus, it's halfway around the world and Tiger Woods isn't good at golf anymore, so who cares?
RELATED: Michael Jordan trash talked United States President Bill Clinton on the golf course