Posted by Royce Young
Lost in the hoopla of Miami's debut, the
Lakers
' ring ceremony and then 13 games last night that featured
Blake Griffin
's spectacular debut,
Kevin Durant
dropping 30 and
Monta Ellis
going off for 46 on 24 shots, was some guy in Denver taking the floor.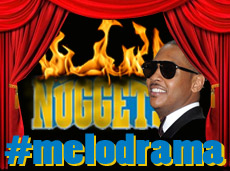 A month ago, most would've thought there was no way
Carmelo Anthony
would be in a
Nuggets
uniform come opening night. I remember when people couldn't believe he was at media day. And yet quietly, Carmelo took the floor for the Nuggets behind a standing ovation from the Pepsi Center crowd and scored 23 points as Denver manhandled division favorite Utah 110-88.
All along, Anthony has said and done everything right. He's never (publically) asked out of Denver, but instead deferred to the "I'm keeping my options open" line. We all forget it's the Nuggets trying to trade him, not that Carmelo has demanded it. He just doesn't intend to sign an extension with Denver and will likely leave next summer. Really, this isn't any different than LeBron's 2009-10 season. Except that the Cavs didn't try and trade LeBron.
So Carmelo took like floor like a good soldier, got some love from fans and exactly as Masai Ujiri was hoping, the Nuggets looked powerful, whooping the
Jazz
. But that hope continues to fade. No matter what, Carmelo just doesn't want to stay in Denver.
"They want to sit down and talk, but my thing is it's way beyond this year,"
Anthony told Yahoo! Sports.
"It ain't got nothing to do with the new GM, Josh, the players. For me, I feel it's a time for change. If I do nothing now, I'm never going to do anything. I feel like my time is now to make a decision if I want to leave or if I want to stay."
Shucks, Denver.
The Nuggets are still trying to trade their star player and they could be holding out until Dec. 15 when offseason free agents are eligible to be traded. Sources told Spears that Anthony is worried about being traded to a team that has to gut its roster to get him. That's why, if Carmelo really had it exactly how he wanted, he'd probably just wait until next summer and sign with the team of his liking. That way nobody has to lose anything and he gets to take his pick.
But if Wednesday's game against Utah showed anything, it's that Carmelo is committed to the team he's currently on. There's no peeking around the corner for Melo. He's part of the Nuggets and he intends to play hard and try and win for them. He won't be part of that team next season. That's pretty much guaranteed. But the fans were fairly receptive though he did say he heard a few boos, but for now, he's still the face of the franchise.
Remember, he's just keeping those options open.