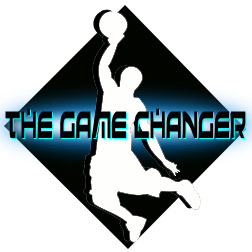 Blake Griffin has help low to topple the Bucks, Jerryd Bayless hates the rim, and the Grizzlies out-work the Magic in today's Game Changer.
Posted by Matt Moore
Each game is made up of elements which help formulate the outcome. Monday through Friday, we'll bring you the elements from the night before's games in our own specialized version of the game recaps. It's not everything that happened, but it's an insight into what lead to the results you'll see in the box scores. This is the Game Changer.
THE BIG ONE: Clippers GO BIG (TIME)
Lost in the fact that Blake Griffin is a horrifyingly talented individual who's dunks are like emotional artillery pounding the opponent into oblivion is a very quiet development that has contributed mightily to the Clippers' recent surge, and it was in full display in the Clips' win over the Bucks. Against a tough, physical, defensive team with a wealth of size down low, the Clippers over-ran the Bucks with a frontcourt that poured in 48 points, 18 rebounds, and 5 blocked shots. Griffin of course carried the load with 32-11, but the progression of
DeAndre Jordan
is significant on multiple levels.
Jordan has developed from a raw, athletic, skinny rail of a kid in his rookie season to a hulking beast of a man at 6-11, 265 lbs. But more importantly, he's improved in the areas so many of those high-upside athletic big men never do, in basketball IQ. His positioning is better. He screens better. He runs the pick and roll better. He's more fluid, and he plays off his teammates and his effort is there. Those kinds of improvements can't be measured in the boxscore, but we're starting to see it from him night in and night out. Put that beside Blake Griffin and you have a combination that just overwhelms an opponent with size and explosiveness. Like
Jon Brockman
found out last night.
Welcome to the jungle, Brockman, we've got DeAndre.
Jordan was 7-8 from the line, his only miss coming on a tip that rolled in and out. The very model of efficiency, helping hold
Andrew Bogut
to 14 points. With
Randy Foye
stepping up,
Eric Bledsoe
contributing, and Blake Griffin being Blake Griffin, the Clippers look more like a complete team than they have since the 2006 playoff season. And this without
Eric Gordon
! After a terrible start to the year, Vinny Del Negro is figuring some things out in Clipperland. The Clippers have now won nine straight at home.
GO-GO-GADGET LINE OF THE NIGHT
:
Blake Griffin: 32 points, 11 rebounds, 6 assists
Runner-Up
Dwyane Wade
: 34 points, 7 rebounds, 5 assists
MAGIC LOSE THEIR MINDS LATE
The Orlando Magic hit their first 12 of 14 shots against the Memphis Grizzlies. After that dazzling display, they apparently thought it would be that easy the whole game. Just hoist up shots from wherever, whenever, get buckets, go home. Unfortunately, their shooting returned to Earth orbit while their defense headed for the bar. The Grizzlies, on the other hand, continuously worked for a quality shot. The Grizz have not been a team with coherent, smooth ball movement this season, but they were rotating the ball expertly against the Magic, and wound up with open looks and inside layups off blown Magic coverage.
Mike Conley
was brilliant with a 26 point, 11 assist performance, and clinched the game with a strip of
Ryan Anderson
off an offensive rebound, just minutes after missing a free throw to open the door to a Magic tying three.
The Magic simply did not want to work past the first quarter. What's stunning from this one is that the Magic had every advantage for most of the game, even in the 2nd and 3rd quarters when they were outscored by nearly 20 points.
Zach Randolph
was flustered by the Magic's swarming help defense, most notably from
Dwight Howard
, and shot just 4-11. When Zach Randolph and
Rudy Gay
combine for just 23 points on 9-26 shooting, and
O.J. Mayo
is suspended? You have to win that game. Instead, the Magic surrendered wide open mid-range shots to Darrel Arthur, having not gotten the book that says Arthur has developed an increasingly reliable mid-range game, and when he's hot, he's 5-8 hot. The Magic did not want to effort to exploit advantages.
An example: Dwight Howard was guarded by
Hasheem Thabeet
for much of the game. Hasheem Thabeet! And yet instead the Magic chose to make perimeter swing pass after perimeter swing pass to try and bust the Grizzlies' zone. It was like turning down a sledgehammer to instead try and bust a rock with a scalpel.
Stan Van Gundy
was apoplectic after the game
, both about his team's defense, and a late game technical for Dwight Howard that helped extend the Grizzlies' lead to 3. Howard may not have done much to earn that tech, but he had been furious with the officials since Thabeet drew a charge on him late on an obvious call. Once again, Howard lost his cool, the system lost its way, and Orlando lost another game. Big win for the Grizzlies, who are now one game over .500 and within striking distance of the 8th seed in the West.
WHIMSY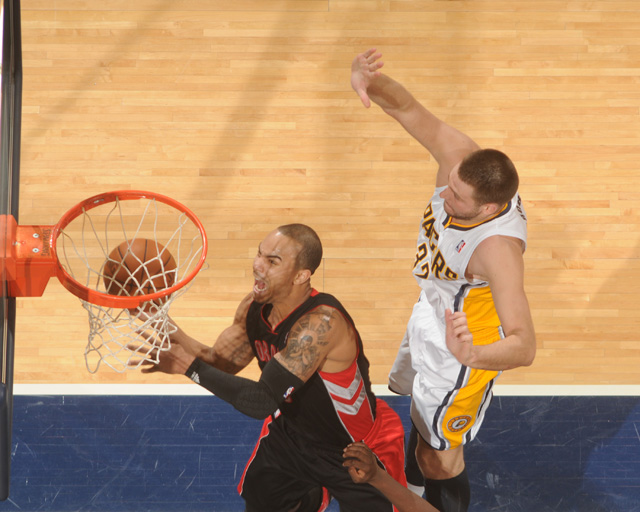 Jerryd Bayless: "I HATE YOU, RIM! I HATE YOU SO MUCH! I HATE YOU AND YOUR STUPID FACE! I'M GOING TO TAKE YOUR MOTHER OUT FOR A NICE STEAK DINNER
AND NEVER CALL HER AGAIN
!
Josh McRoberts
: "Whoa, bro."
Final Thoughts: