Posted by Royce Young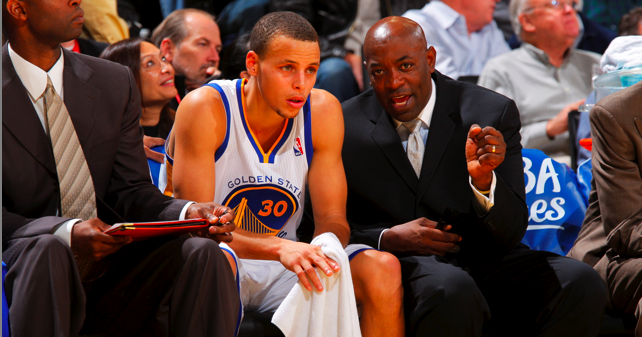 When Keith Smart was hired before the season, or more specifically promoted from the second seat on the bench after Don Nelson "resigned," it was clear Smart wasn't thought to be the long-term answer.
He was given just a one-year contract and with the
Warriors
playing better this season but still struggling in a lot of the same old areas, Smart may pay for it. Especially with an ambitious owner breathing down his neck to turn things around now-ish. On top of that, it could be Smart's relationship with the franchise player that does it too.
CSN Bay Area has the goods.
When Warriors owner Joe Lacob says publicly at the end of the season he's not bringing back Keith Smart as coach — which seems very much a foregone conclusion at this point — he'll certainly have some reasons.

Right at the top of the list will be Smart's relationship with second-year point guard Stephen Curry. There is no feud, no profanity-laced shouting matches or even any dislike, really. There's not even really a "problem."

But something's amiss between the two. All you have had to do was watch the Warriors all season long and you would have seen it. To say Smart has had Curry on a shorter leash than Don Nelson did a year ago would be an understatement.
Playing is and will always be a coach's greatest weapon and Smart uses that against Curry often. This season, Curry is averaging about three minutes less per game but is scoring better and shooting higher percentages. The problem though is how Curry takes care of the ball and he's made no improvement in that area since last season, still averaging three turns a game. That's what's irking Smart.
Thing is, Curry is your guy. He's The Player. If the Warriors had depth, it wouldn't be as big a deal, but sitting Curry for players way worse isn't a smart thing for Smart (hi-oh!). He's trying to make Curry a better player, but it's all about response and right now, it doesn't appear that Smart is getting through.
The Warriors kind of seem like a franchise that's closing in on
something
even though they don't know what it is. Owner Joe Lacob keeps talking about trading the team's best players and now it looks like Smart's job could be open. Again, the team's not bad! They still stink defensively, but they rebound and defend just enough to win some games.
The team has already won four more games than last season and honestly, if a strong push is made to end the season the Warriors could flirt with .500. If they were in the East, they could be battling for the six-seed right now. Doesn't sound like that's going to help Smart much though.